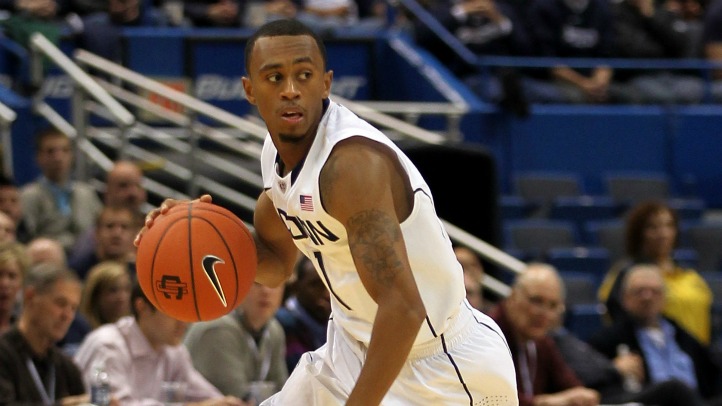 UConn played its first six games without freshman point guard Ryan Boatright, who was forced to sit by the NCAA for a rules violation.

For the Huskies, he was worth the wait.

Boatright scored 23 points and had six assists in his home debut and No. 8 Connecticut beat Arkansas 75-62 Saturday in the Big East-SEC challenge.

Boatright hit eight of his 12 shots and also had five rebounds for Connecticut, which didn't make a basket for the first five minutes of the game.

That was just after Boatright checked in and the Huskies went to a three-guard lineup that led them on a 14-2 run.

"I knew when I came in that I had to do something different than they was doing out there," Boatright said. "So I just tried to bring energy to my team, get everybody going."

Jeremy Lamb added 14 points and Tyler Olander had 12 points and six rebounds for UConn (7-1).

B.J. Young scored 28 points for Arkansas (5-2) and fellow freshman Devonta Abron had 16 rebounds for the Razorbacks, who outrebounded Connecticut 47-35.

"My young pups, they battled them and battled them pretty hard," Arkansas coach Mike Anderson said. "But in the end, you have to put the ball in the hole."

UConn shot 57 percent from the floor and held Arkansas to 31 percent.

But the Huskies' front line gave up 27 offensive rebounds, while getting just four.

Arkansas' highly touted defense started strong, forcing four turnovers on the Huskies' first six possessions as the Razorbacks jumped out to an 8-1 lead. Arkansas came in forcing 19.5 turnovers per game, and got 15 from the Huskies.

UConn responded to the run by putting in Boatright. He had two assists, a steal, and a layup on the Huskies' first three baskets.

UConn coach Jim Calhoun said he loves his freshman's confidence.

"He was really good tonight," Calhoun said. "He could have a bad shooting game, but he's not going to have a bad active game. He's not going to back down because he fears you."

Boatright, who was penalized by the NCAA for taking a plane ticket from a coach last year while playing AAU ball, scored 14 points in his debut last week against Florida State, including the key free throws that sent that game into overtime.

The 14-2 UConn run gave the Huskies a 15-10 lead, their first of the game. It was 22-12 Huskies when Lamb hit a 3-pointer with just over nine minutes to play.

Connecticut led by 14 before Young scored every point during an 11-4 run by Arkansas to cut the lead to 37-30. It was 39-32 at the half.

Connecticut scored the first five points of the second half, before Lamb picked up his third foul less than a minute in.

But Boatright kept Arkansas at a distance. His 3-pointer midway through the second half gave UConn a 62-48 lead.

"Our three-guard attack was really good," Calhoun said. "Obviously Ryan was pretty special."

Arkansas cut the lead to seven on Abron's layup with seven minutes left and Lamb picked up his fourth foul on a drive to the basket with 5½ minutes left. But the Razorbacks could not capitalize.

Boatright's floater in the lane put the game out of reach at 73-59 with just over two minutes left.

"I didn't play as many minutes as I usually do," Lamb said. "It was great to see people still scoring, people stepping up and just really knocking down buckets and just keeping the game going."

The Huskies' bench outscored their starters 39-36.

Connecticut won its 38th straight home game against a non-conference opponent. The Huskies last lost a home game against a team outside the Big East in January 2007, when Indiana won 77-73 in Hartford.

The Razorbacks came into the game on a three-game winning streak, but were playing their first game of the season outside the state of Arkansas.

"We didn't come out with the win today but we fought hard," said Young, who made 5 of 6 shots from behind the 3-point line "I think we never gave up. We're a young team and we're going to take some lumps along the way. But we're learning from this. It's a great learning experience."