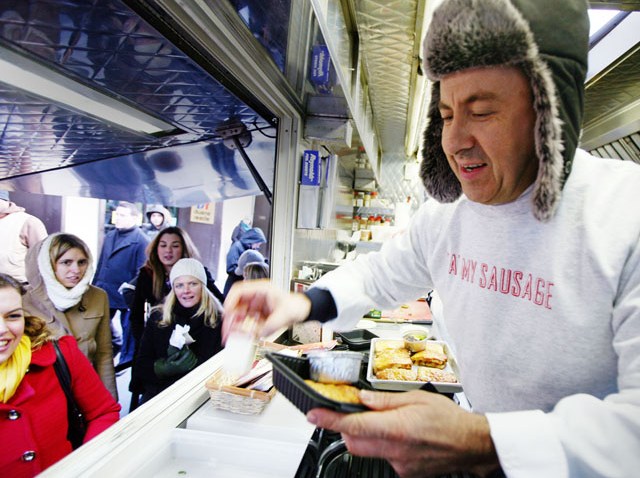 UConn's 66-58 win over Syracuse Wednesday marked the end of an era. The Orange are headed to the ACC while the Huskies will remain in the Big East (for now). The outcome, which had Syracuse heavily favored, prompted guards Ryan Boatright and Omar Calhoun to observe afterwards, "They get to leave with the taste of UConn in their mouth going to the ACC."

But that wasn't the most awkward thing to happen postgame. Not even close, as it turns out. Nope, that honor falls to Syracuse coach Jim Boeheim, who for reasons that remain unclear, has quite the distaste for ESPN's Andy Katz. Perhaps this has been simmering for some time, but it very public during Wednesday's post-game presser.

Katz asked Boeheim a question and the Syracuse coach already had a response ready: "I'll answer anybody's question but yours," he said. "Because you're an idiot and really a disloyal person. I have a few other things I could add, but I'm not gonna go there."

So that happened. Of course, the press conference rolled on like such outbursts were the most natural thing in the world, and Boeheim quickly pivoted into talking about the Syracuse-UConn rivalry. "I think Connecticut and Syracuse have had so many great games over the years, and I think it's just one of those things that happens and goes away," he said. "That's just the way it is. It's been talked about a million times … the (Big East) wasn't able to be kept together and I feel bad about the whole thing."

So that's all well and good, reminiscing about the old days, but, um, what was that?

The Connecticut Post's Sean Patrick Bowley puts forth a theory.
Earlier on the ESPN broadcast of the game, Katz reported a new tidbit involving Syracuse senior forward James Southerland. Southerland, the team's leading scorer and rebounder, had just successfully appealed his suspension and returned to play last weekend after sitting six games beginning Jan. 12.

Katz reported Southerland's issue was over "two paragraphs" of an academic paper, a fact Southerland and University officials had previously remained silent about. Did Katz report something Boeheim believed was off-the-record? Ben Meyers of the Auburn Citizen seemed to think so in this insightful piece.
Either way, Katz seemed unconcerned. According to a tweet from WAER Sports, Katz's "response to the press room crowd: last time I checked I wasn't getting paid by Syracuse U."