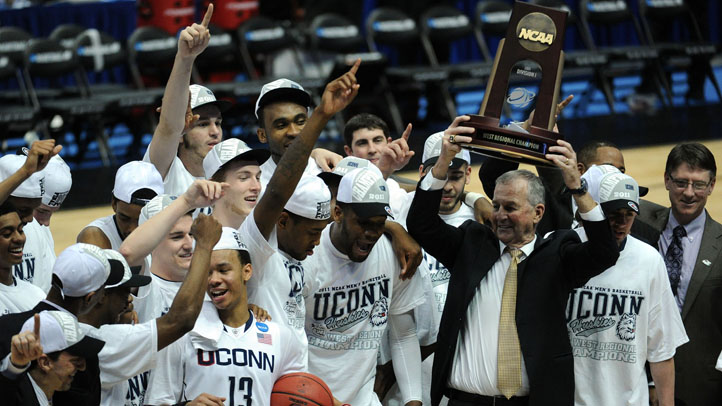 Maybe this just isn't Michael Bradley's year, at least not yet. The guy responsible for giving up his scholarship so Andre Drummond could come to UConn found out Monday that his sprained right ankle was in fact broken.

"Upon further examination by the UConn medical staff, it has been determined that … Bradley has a fractured right ankle that will require corrective surgery," a university spokesman said in a statement. "He is expected to undergo that procedure later this week and will then go through six weeks of rehabilitation, returning to action in early December."

It could've been worse, of course; Bradley might've been lost for the season. Instead, he'll be back before the calendar year is up.

Before this latest setback, Bradley was probably best known for his role in helping get Drummond to Storrs. Much of the initial speculation was that Bradley was strong-armed into the decision but he's made it clear on several occasions that the choice was his. He's considered one of the hardest workers on the team and spent the offseason getting stronger to help beef up the Huskies' front court.

It's hard to say how much Bradley might have actually played, partly because there's so much depth in front of him, but also due to the fact that head coach Jim Calhoun isn't afraid to go deep into his bench to get guys minutes. Freshmen Niels Giffey and Tyler Olander saw plenty of action last season and that experience will only help UConn in 2011-12.

Before the team knew that Bradley had fractured in his ankle he had been riding a stationary bike while his teammates practiced. After the diagnosis, Calhoun spoke to Bradley's toughness.

"He was riding the biking, standing up, with a broken ankle," the coach said. "That tells you an awful lot about Michael. He's going to come back and help us."

Usually, we might just dismiss that last comment as coach speak. But we get the sense that Calhoun really means it. More than that: we believe him.