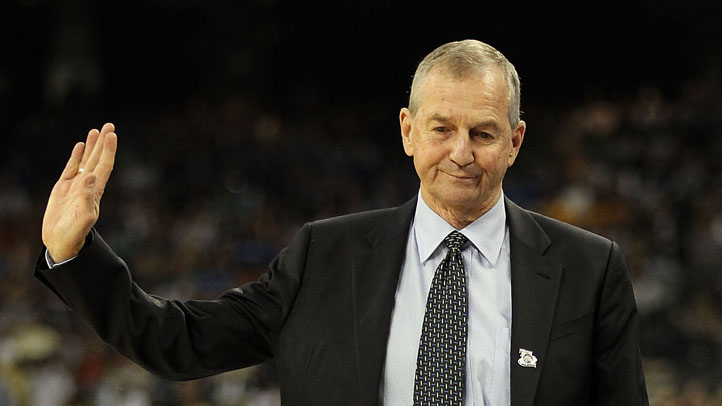 At first glance, there is no downside to Andre Drummond joining the Huskies for the 2011-12 season. UConn immediately goes from contender to favorite in the Big East, and more than that, they now have a legitimate shot at defending their national title.

But there are also unintended consequences to Drummond's arrival in Storrs, primarily because of the team's low Academic Progress Rates (APR) and the subsequent NCAA penalties in the form of three lost scholarships. When Drummond announced Friday that he was headed to UConn, we talked about the on-court implications, but before Drummond ever dons a uniform, one of his future teammates would have to give up their scholarship.
Michael Bradley, the redshirt freshman we highlighted this summer, has been approached by the university about trading his scholarship for financial aid, which would allow him to stay with the team, just not on a full ride.

Bradley's a 6-10 center, a position has gone from necessity to novelty for the Huskies now that Drummond (6-10) joins Alex Oriakhi (6-9), Roscoe Smith (6-9) and Tyler Olander (6-9) in the frontcourt.

The New Haven Register's David Borges writes that Bradley was expected to vie for playing time this season, now it's just a matter of who'll pay for that right.

"There are several options I know the school is helping him to explore, (like) how much financial aid he would be eligible for," said Lynn Jordan, program director at the Tennessee Baptist Children's Home, where Bradley spent most of his high school years. "His circumstances are a little unique, so that may open the door up for financial aid."

But the Hartford Courant's Dom Amore points out that Bradley isn't the school's only option. According to a source, "It's possible that Enosch Wolf, who is on campus, could return to Germany to play. This could be an option for Niels Giffey, who is also from Germany. Wolf, a 7-1 center, appeared in seven games last season; Giffey appeared in 41, starting 10."

Giffey was a role player as a freshman, and while the team's success this season won't hinge on his availability, he would add a lot of depth to the Huskies' bench, something they lacked a year ago.

We can wave our arms and say that this is the price of competing in big-time college basketball programs. And to an extent that may be true. But the bigger story is that Bradley could lose his scholarship not because of something he did -- by all accounts, he's academically eligible and a hard worker -- but because Jim Calhoun was the head coach of a program that couldn't meet the basic APR requirements and said program was punished because of it.