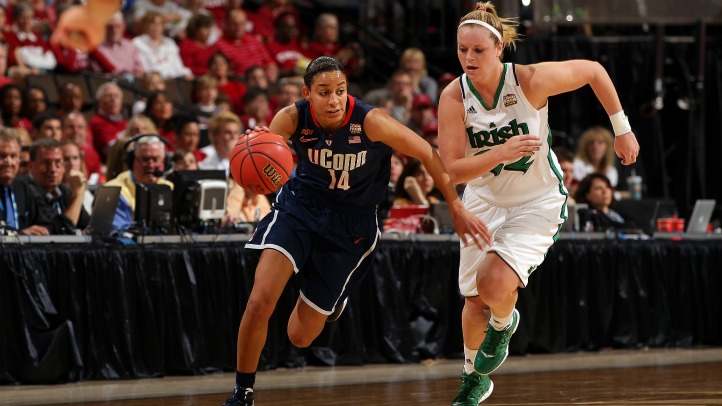 Since her arrival in 2010, Bria Hartley has been an integral part of UConn's success. She was an All-American as a sophomore, but an ankle injury suffered last August saw her limp (both literally and figuratively) into the season. Hartley struggled with consistency and at times, it seemed, confidence. But now entering her senior season, the playmaking guard has big plans for 2013-14.

"This year is going to be a great year," Hartley said via SNY.com. "When you're a senior you want to go out on top and have your best year. That's important to me. We want to make sure, as a team, we're better. I don't want us to go through the inconsistencies we had last year. We're a year more experienced and we won a national championship so we know what it takes. The only person without that experience is Saniya Chong but we can guide her and help show her the way.

"Not many players can say they won a national championship. I know a lot of Connecticut players can say they have. It's something you can't take away and winning one is great. Now we want to go out there and win another one."

Hartley sounds wiser from her experiences last season, even if she cringed every time someone said "The old Bria's back" after a good performance.

"I didn't want to hear that," Hartley said. "That was always to me kind of annoying — 'Old Bria. Old Bria. Old Bria.' All right. I just thought it put a negative connotation on things sometimes. It's like I was two different people. It was still me. I was still the same person and same player but you go through some struggles sometimes.

"Everything that happened last year happened for a reason and you grow from that. It helped me as a player and as a person. I think that showed up for me late in the season when I was able to string together some good games."

Coach Geno Auriemma will be counting on veteran leadership from Hartley this season. She'll team up with sophomore Moriah Jefferson in the backcourt, and they will be responsible for getting the ball to sharpshooter Kaleena Mosqueda-Lewis, all-everything Breanna Stewart, and center Stefanie Dolson. And if 2013-14 goes anything like Hartley's three previous seasons, the Huskies will again be in the mix for a national title.