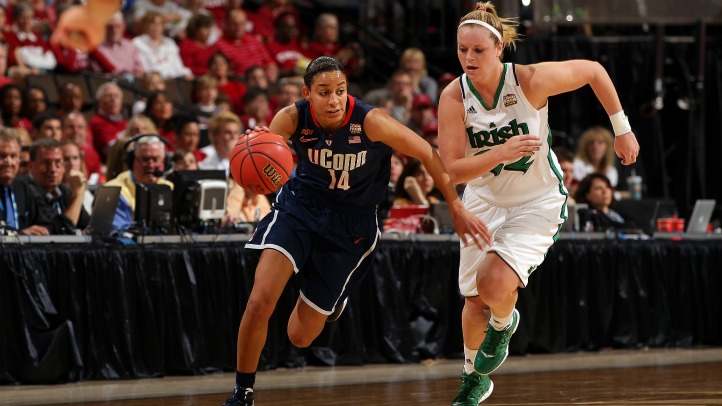 Junior guard Bria Hartley has gone from fresh-faced rookie starting alongside Maya Moore to one of the veteran leaders of Geno Auriemma's team. And when practice officially gets under way next month, there will, as always, be high expectations.

Hartley spent part of the summer representing her country as part of FIBA 3x3 Women's World Championship team and used the opportunity of three-on-three basketball to hone her game.

"I wanted most to work on my ability to finish at the rim, with contact, and I think I did well in that area," she told the Hartford Courant's John Altavilla. "This was a very physical tournament and the referees let a lot of things go. "Overall, I think I had a pretty good shooting tournament. There was one day I couldn't hit a thing, another when I couldn't miss. It happens."

It was a good experience with great teammates (she was teammates with Notre Dame's Skylar Diggins, Stanford junior Chiney Ogwumike and former UConn guard Ann Strother) but now the focus is on one thing: getting the Huskies back to the national championship game, something Hartley has yet to experience.

Altavilla spoke with Hartley about the upcoming season and here's what she said about team chemistry:

"This team is really working hard together, which is not to say the others I've played on didn't. It just feels different than last year. There is a good group of players, a very good energy on the floor. Stefanie [Dolson] and I, being juniors now, have a greater understanding of what we need to do.

"Kelly Faris is a great leader who works very hard and we all follow that example. Then you have the juniors following here, the sophomores following the juniors and so forth. It creates a nice chain reaction."

There's also the arrival of freshman center Breanna Stewart who Auriemma has already referred to as having the potential to be the best player to ever come through UConn. She'll be joined by incoming freshmen and high school All American's Moriah Jefferson and Morgan Tuck.