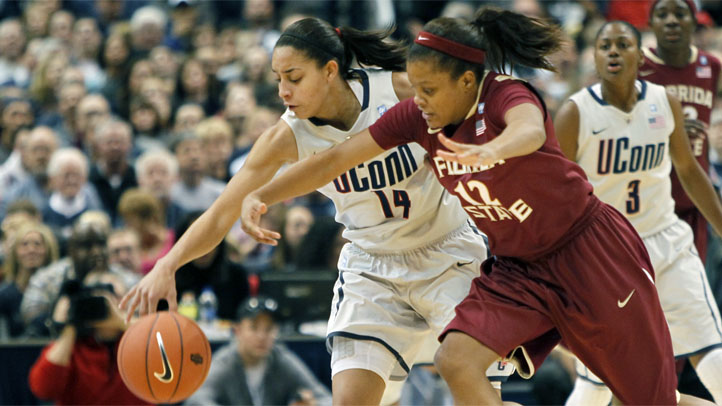 For not having their first game of the 2011-12 season for another three weeks, the UConn women's team has been busy.
In addition to the news that they were picked to finish second in the Big East behind Notre Dame (Auriemma's cool with it), as well as the individual preseason honors (inexplicably, center Stefanie Dolson was left off the All-Big East team), guards Caroline Doty and Bria Hartley missed practice time.
Doty is recovering from surgical maintenance on her knee (she tore her ACL last offseason and was cleared to play a few weeks ago), and Hartley, the sophomore who played alongside Dolson this summer on the U-19 US National Team that won the world championship, suffered a concussion in practice.

"She got hit in the side of the head during a collision for a loose ball and then the day after [Tuesday] she said she didn't feel so good," Geno Auriemma said Thursday, according to the Hartford Courant. "It's probably something that happens every day in practice and she just happened to come out of it this time with a little knock to the head. That's what happens when two heads collide.

"We didn't think it was such a good idea to put her in the car for two hours [to attend media day]. We just wanted her to go to class and take it as easy as possible. Hopefully, Bria will be ready to go tomorrow [Friday]."

And no one blames Hartley, Auriemma or UConn for the decision. Though it does make you wonder how football players can get knocked silly, look completely out of sorts on the sideline, and then get sent back into the game. Thankfully, things have changed a lot in recent years regarding player safety -- particularly concerning head injuries.

Luckily, this is seldom an issue in basketball. And by the time the season opener rolls around Hartley and Doty both should be good to go.