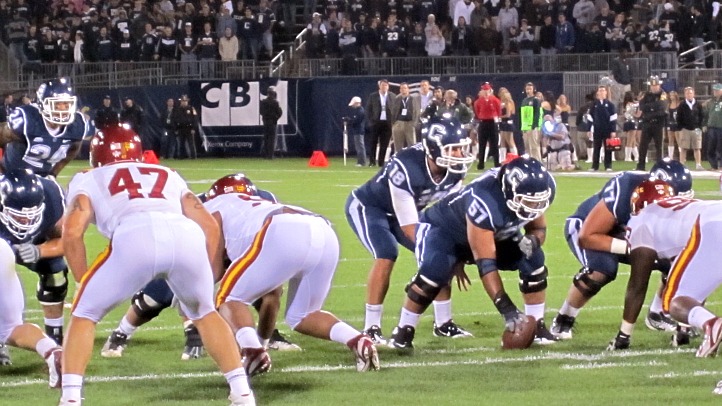 It's been a familiar refrain through three weeks, but until something changes, we'll hear it the rest of the season: the Huskies' offense needs to be more consistent, and that starts with the quarterback, whoever that might be.

Next up on the schedule: the Buffalo Bulls (1-2, 0-1 in the MAC), a team that couldn't come along at a better time for UConn. We wrote before last week's game against Iowa State that, while quarterback Johnny McEntee may not do much to inspire confidence, there's a reason the coaches have given him the start three consecutive games: he's the best of the bunch, at least for now. But with each passing week, freshman Michael Nebrich gains experience, and he could win the job at some point soon.

For now, though, it appears that McEntee is still the man.

"The bigger issue is these plays are there," offensive coordinator George DeLeone said, according to the Hartford Courant's Desmond Conner. "When you study the film closely there were unbelievable opportunities for us to move the ball. We didn't so it's not a glass-is-half-empty situation. It's the glass is half full but we just haven't taken advantage of the opportunities. The [Iowa State game] was ultimately ridiculous how open some of these situations were."

"There are opportunities but the bigger disappointment is that we didn't run the ball well enough [112 yards]. Our stats are a little different than what people think is important. In other words, of the runs called, say there's 20 runs called, we have to make over 55 percent of those runs 4 yards or better. Against Iowa State we were at about 38 percent. That's too low."

The Huskies could realistically be 3-0 right now. Instead they've yet to beat a Division I team, though they've had plenty of opportunities. Which leads us to this: turnovers.
UConn's defense has done a splendid job of creating fumbles and interceptions -- they have two fumble recoveries and six picks through three games -- but the offense has not been able to capitalize, primarily because they've been busy losing the ball, too (six fumbles, five interceptions). Clearly, this development concerns head coach Paul Pasqualoni.

"Often players and people in the media get tired of hearing the coach talk about all the little things," Pasqualoni said when discussing running back DJ Shoemate's fumble against Iowa State. "When you have an accumulative effect, taking care of all these little details, like how wide do you step, where you enter the line of scrimmage, you're taking care of a lot of problems.
"That [fumble] was a direct result of being hurt; I'm trying to manage the number of reps he has in practice so he can be fresh for the game. Well, consequently, I hurt him. I didn't help him because I didn't give him enough reps with that particular footwork. He's got to do a better job. It's on him but we can't be running into our own fullback and getting the ball knocked out."

Despite the slow start, no one's panicking. Not yet, anyway. "I'm not in a situation where it's everything is bad, let's scrap the whole thing and go to another deal. I don't believe that, not now" DeLeone said. "It's almost like this is a ridiculous statement, but you're almost encouraged by what happened in the game because there were opportunities for us to win. We didn't capitalize. We have to do a better job of that."

That's a good point. If nothing else, McEntee has plenty of experience with trying to bring is team from behind late in the game. And one of these weeks, it will pay off.