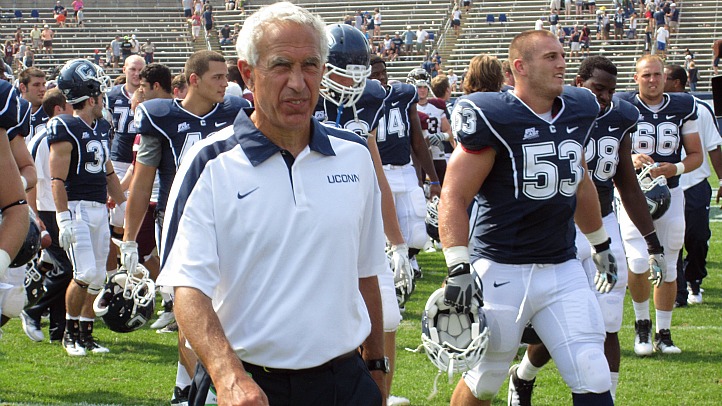 There's every reason to believe that, come Sunday morning, the Huskies will be 2-2 on the season. They face Buffalo (1-2, 0-1 in the MAC) Saturday night, a team UConn has had little trouble with in the past. It should also provide a tune-up for conference play ( In theory, anyway), which is just two weeks away.

The Huskies' troubles (mostly on offense) have been well documented here and, well, everywhere else too. To recap: the quarterback -- whoever he may be -- has to be more consistent. After that, everything else falls into place because the defense has been better than advertised.

But head coach Paul Pasqualoni isn't overlooking Buffalo. (And given the way the Huskies have played the previous two weeks, he shouldn't.)

"They don't give up many big plays, which is a credit to their defense," Pasqualoni said Thursday, according to the Hartford Courant's Desmond Conner. "They're doing a great job of running the ball. Branden Oliver is a very productive back. [quarterback] Chazz Anderson is very well-acquainted with this offense and he's very, very comfortable with being in the shotgun. I like their wide receivers, I think they've got big-play potential and they make big plays in the passing game. They can make big plays and they don't give up many big plays so we're going to have go up there and not turn the ball over. They are a plus-4 on the turnover deal which is a great credit to them."

Conner writes that Anderson, a Cincinnati transfer, has 589 passing yards this season, and 276 came against Pitt. The Bulls lost to the Panthers, 35-16, but Anderson completed 32 of 49 passes (65 percent). And Oliver carried the ball 35 times for 111 yards.

"I had had previous experience with Chazz," Bulls coach Jeff Quinn, a former Cincinnati assistant, told Conner. "He's already earned his degree. He's already helped us win two Big East back-to-back championships when Brian Kelly was the head coach [at Cincinnati]. He was comfortable, familiar with our system [at Buffalo]. I needed to bring in somebody with his mentality. His quality of leadership, his confidence level, his ability as a playmaker were all very important for me. He was able to transfer and be eligible immediately because he had already earned his bachelor's degree."

But big-play offenses aren't as much of a concern for the Huskies as stout defenses. Because, ultimately, this game will be won or lost on UConn's ability to convert third downs and take advantage of scoring opportunities, two things they have struggled with this season.

The Bulls are allowing 25.3 points per game and have just one interception and six sacks in three games.