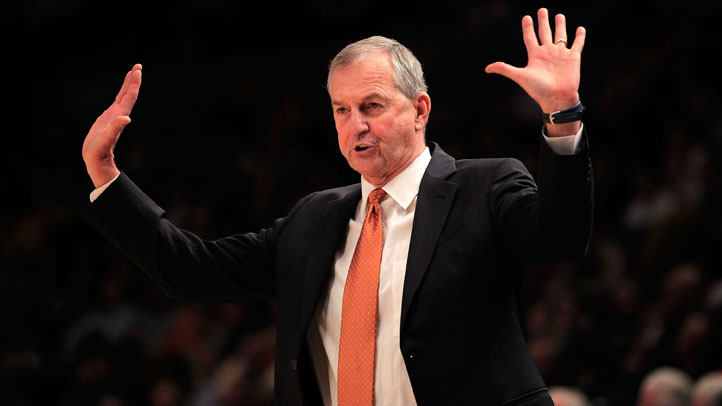 On Friday, Pitt and Syracuse announced that they were leaving the Big East for the Atlantic Coast Conference. The news sent the other big-name Big East schools -- most notably Connecticut -- scrambling for a Plan B because a conference without star power isn't much of a conference at all.

UConn president Susan Herbst said over the weekend that, "UConn is a proud charter member of the Big East and we have taken a lead role in the league's success over the years. However, it is my responsibility as President that we stay in constant communication and be actively involved in discussions with our counterparts from around the country to ensure the successful long-term future of our university's athletic program."

It's a very political, nuanced non-answer, which is about all you can expect given the circumstances. Yes, UConn wants to be loyal to the Big East … up until the point where there's a chance to better the university and the athletic program by jumping to a better situation. Like, say, the ACC. (Hey, Pitt and Syracuse aren't leaving because it will make them worse off. College sports might be played by amateurs, but don't confuse that with the fact that it's a billion-dollar industry.)

And that leads us to recent comments from Syracuse basketball coach Jim Boeheim (via the
Birmingham News's Jon Soloman).

"I think UConn will be in the ACC, if I had to guess," Boeheim said during a speech at the Monday Morning Quarterback Club in Birmingham. "I think Rutgers could be. I think some people are thinking of leaving. ... Why would Florida State want to go to the SEC when you're in the ACC and you win banners? Doesn't make sense."

If we had to guess, we'd guess that Boeheim is guessing right. UConn's football program might be relatively new to Division I, but it's basketball program is among the best in the country and fresh off a national title.

That brings us to UConn coach Jim Calhoun, who pines for how things used to be.

"The Big East that I knew, that I loved, has been gone for, oh, about 10 years now," he told the Hartford Courant's Dom Amore. "I remember when nine of us used to be able to sit at a table and hash things out."

Calhoun admitted that he figured the conference would be reconfigured at some point, just not this quickly.

"The Big East gave me an opportunity," Calhoun said, "but more importantly it gave UConn a stage. UConn needed a stage, and the Big East, created through the genius of Dave Gavitt, gave us that stage and we ran with it, men's basketball, women's basketball, we ran with it. We did that. ... We should always feel indebted to the Big East, but having said that, it's time for us to move forward now, time for us to do what's best for UConn."

And we take that to mean, at some point in the near future, UConn will follow Pitt and Syracuse out the door to the ACC.