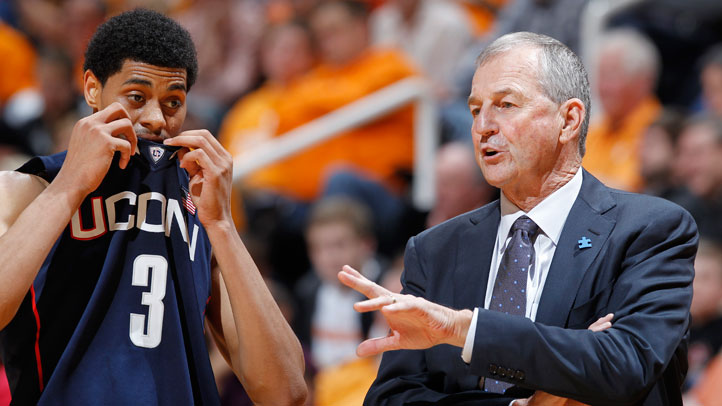 Now that the NCAA has denied UConn's appeal of the 2013 postseason ban, the reality has begun to set in. And from the perspective of early April, it doesn't look pretty. Alex Oriakhi has already left the program and it's reasonable to think that Jeremy Lamb and Andre Drummond won't be far behind. And the 2012 recruiting class doesn't offer much relief. It includes one member, Omar Calhoun, who is a big-time prospect but he won't be able to single-handedly change the program's fortunes.

Then there's 69-year-old coach Jim Calhoun, who could just decide to retire and leave this mess for others to clean up. Except that's not in his nature. He's had plenty of opportunities to call it quits in recent years and he's still coaching. And according to ESPN.com's Andy Katz, that won't change anytime soon.

"A number of sources close to Calhoun said he will not retire," Katz said Thursday after the NCAA had denied UConn's appeal. "Actually, this latest setback will likely embolden him even more to stay and get the Huskies through this hurdle, instead of him quitting on the program when it needs leadership most. Calhoun, who has survived two bouts of cancer, eight broken ribs and recent back surgery, is considered one of the toughest coaches in the country. "

And that sounds like the Calhoun we know.

It's been a frustrating few weeks for the program which was punctuated by the NCAA's latest decision. According to Katz, athletic director Warde Manuel "said he views the Huskies as being penalized twice since it already lost a scholarship due to the poor APR, received a public reprimand and a reduction of practice hours. Manuel said the board of directors changed the level two penalty on Oct. 26, 2011 to go from the above mentioned to include a postseason ban."

As for the challenges now facing the Huskies, USC coach Kevin O'Neill, whose program was banned from postseason play two years ago, says it won't be easy but "If anybody can do it, Jim can. He commands the respect to keep them up."

The key, of course, is to minimize the defections. No one would blame players for wanting to leave although Manuel said that, other than Oriakhi, no one has asked for their release. And as it stands, both Lamb and Drummond remain on the team.

"It's a tough time for us right now," Lamb said according to FoxCT's Audrey Kuchen. "… We've got to come together. We've got to keep working hard on the books and see what happens. There are a lot of rumors about guys leaving. Not really sure right now, I can't say much. I don't really know."

If Lamb does declare for the NBA Draft it will be because a) he's already won a national title and b) with no postseason in 2013, he has nothing to play for. Then again, maybe, like Calhoun, he feels a sense of responsibility for getting the program back on its feet.