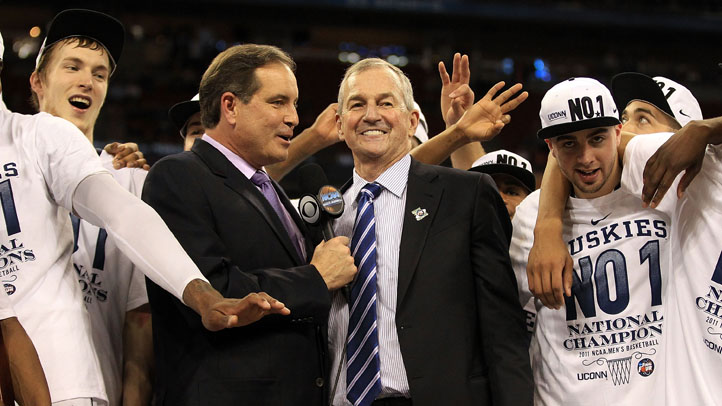 We mentioned earlier Tuesday that it's not a matter of if but when for the Huskies leaving the Big East for the greener pastures of a bigger conference, possibly the ACC. While UConn president Susan Herbst and basketball coach Jim Calhoun spoke about loyalty and old-time rivalries, they're both politically astute enough to know that rivalries without television contracts aren't rivalries at all. They're pick-up games.

So conference realignment is a reality in the world of college athletics, where money is more important than touchdowns or three-pointers. But here's the thing: it's not going to happen tomorrow or next week or even next year.

According to the New York Times, Big East commissioner John Marinatto will hold Pitt and Syracuse, who announced Friday that they're headed to the ACC, to the 27-month requirement, meaning that the Panthers and the Orange aren't going anywhere until June 2014 at the earliest.

That could change, of course, but the implication, at least for now, is that neither Jim Boeheim nor Jim Calhoun will likely be on the bench when Syracuse and UConn move to new conferences. (While nothing's been announced, we're assuming that it's only a matter of time before the Huskies bolt the Big East, too.)

Adam Zagoria of the ZagsBlog.com makes a convincing case:
Calhoun, who already flirted with retirement his summer, will be 72 then, and his current contract expires in June 2014.

Now that he's outlasted former athletic director Jeff Hathaway and gained the endorsement of UConn President Susan Herbst, he probably sticks around through the end of the contract.

He does have Andre Drummond and DeAndre Daniels coming onto a defending NCAA championship team that already includes Jeremy Lamb, Shabazz Napier, Alex Oriakhi and Roscoe Smith.

But three years from now, when Drummond and Lamb are in the NBA and all those other guys are gone, will he still have the fire to coach?

By then it may be time for his hand-picked successor, Kevin Ollie, who is tearing it up on the recruiting trail, to take over the new era when the Huskies are in the ACC.
And Boeheim, who is 66, told ESPNNewYork.com in March that "I can see it, I can see the end (of my career)."

Whatever the future holds for Calhoun and Boeheim, Zagoria and ESPN.com Big East blogger Andrea Adelson make an important point: if Marinatto is serious about not letting Pitt and Syracuse out of the Big East for 27 months, things could be unbelievably awkward in the meantime.