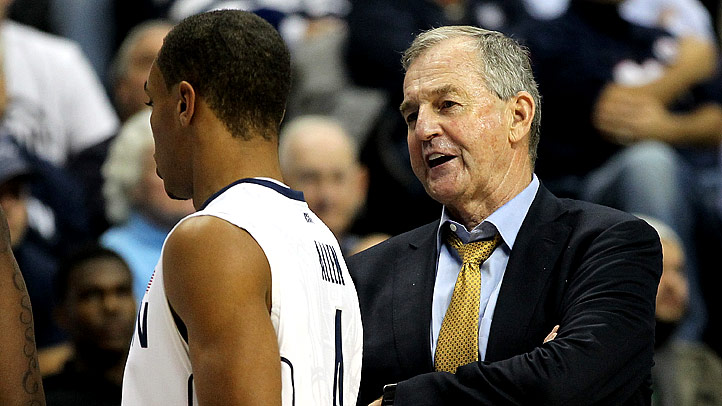 In years past, the start of the college basketball season meant several weeks of cream-puff scheduling by the big-conference top-25 schools (and if you were John Thompson and Georgetown, maybe even a month). Part of it was to help ease the players back into the game, part of it was to prepare them for the impending conference schedules, and a big part of it was to pad the stats so come NCAA Tournament time, prospective top seeds would look even more attractive to the selection committee.

Those days are long gone and not just because the top teams have cut back on the number of metaphorical sacrificial lambs they've scheduled. College basketball, from top to bottom, has gotten better in recent years. Just look at last year's championship game: UConn faced Butler. That never would've happened 20 years ago. The closest thing we saw to an outta-nowhere team making a title run was Villanova in 1985.

Now top-ranked teams are beating huge underdogs by 10-15 points. It's a comfortable margin of victory, yes, but a long way away from the 30- and 40-point wins we once saw. So what gives?

"It's going to be a battle, there are too many good teams," head coach Jim Calhoun said, via the Hartford Courant. "The gap is closing. The Northeast Conference, with Quinnipiac, and Central, Long Island and now Wagner – that's a pretty good conference. They've got some players. They're tough kids and they come in here and they want to play hard. It's supposed to be the year of these great powers, because more players have stayed. I hate to use the word 'parity' but that's kind of what it is."
UConn beat Columbia last Friday by 13, and the Lions doubled them up 20-10 on the offensive boards. Three days later, the Huskies beat Wagner by 12. And the nation's best team, North Carolina, got past UNC-Asheville earlier this week 91-75. All examples that support Calhoun's argument.

"… My point being, you've got to lace it up every night and [play hard]," Calhoun continued. "... Columbia was tough, the way they came at us. [Against Wagner], when we got up 18 we should have expanded upon that. We didn't, but I think eventually we will."

UConn guard Jeremy Lamb agreed.

"[Wagner] was a tough team. They were real scrappy. We got up, and they never gave up. We've got to learn to play the whole game."

The takeaway: there are teams on the schedule the Huskies should beat, but there are no more true cream puffs. Just something to keep in mind as UConn hosts Maine Thursday night. The Black Bears, by the way, are coached by Ted Woodward, a former Calhoun assistant.