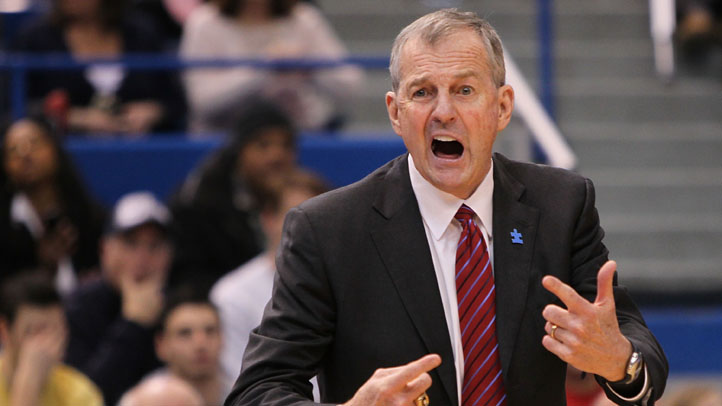 So it sounds like the UConn men's basketball team will be losing two scholarships. Reports surfaced Friday at the Huskies' Academic Progress Rates score of 893 was 32 points below the threshold to avoid NCAA penalties.

UConn is now down to 10 scholarships, and have just one to give for the 2011-2012 season. And while scholarships dwindle, questions grow. The most popular of which is some form of "How did this happen?"

It's a fair concern, even for a big-time basketball operation with three national titles since 1999. In April, Calhoun defended the program's academic reputation telling the Associated Press, "Eight straight years, we made the APR," Calhoun said after being lauded by the governor and lawmakers during "Husky Day" at the state Capitol. "If because someone left early or didn't finish, all those various things that get you ... when you have 16 kids leave [for the pros] in a 10-year period, you are more likely to be more open to [a low APR] happening."

Which is the same argument SB Nation's The UConn Blog makes: "If you're looking for culprits to blame your starting point should be the 2006-07 recruiting class. That seven-member group has been a headache from the start (with the exception of helping boost the Huskies into the 2009 Final Four) and transfers like Eaves, Johnson and Kelley hurt UConn's APR no matter what they do at their next school. They came to Storrs and didn't graduate from there so UConn gets nailed."

But here's the problem: UConn isn't the only school in the country to have kids transfer, or leave early for the NBA. More than that, Calhoun recruited these players. He can make all the excuses he wants but ultimately, the responsibility rests with him. In October, Calhoun defended the program's 31 percent graduation rate. Via the AP:
The NCAA released its annual Graduation Success Rate figures on Wednesday. According to the report, the UConn men's program graduated just 31 percent of players who entered school in 2003-04 within six years.

Calhoun said he could have done a better job as a coach motivating some kids to graduate. But he says the school also had more players leave for the NBA and other pro leagues than almost any other program in the country.
It's clear that "We had a lot of players leave early" is a talking point Calhoun will trot out every time the issue comes up. It's just hard to take those words seriously when you read that Duke, North Carolina and NC State were recognized last week by the NCAA as three basketball programs that finished in the top 10 percent in APR nationally. They have all had players transfer and leave early for the NBA, and Duke and UNC are perennial contenders to win the NCAA Tournament every year. Which all makes it that much harder to believe Calhoun's "woe is us" explanation.

Either way, the NCAA has ruled, the Huskies have been punished, and hopefully everybody can get back to worrying about things like filling that last scholarship and whether Calhoun will ever coach again. For what it's worth, from the sound of it, he's leaning towards yes.