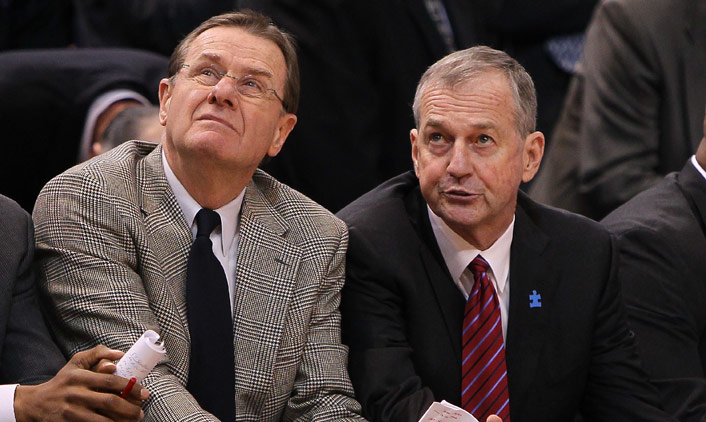 As part of sanctions levied by the NCAA for recruiting violations, UConn basketball coach Jim Calhoun missed the first three games of the Big East schedule. He's sidelined again, this time for health reasons. Specifically: the 69-year-old coach was diagnosed with spinal stenosis last week and has since taken a medical leave of absence. Calhoun, mercifully perhaps, wasn't on the bench for the Huskies' demoralizing performance against Louisville Monday, and he won't coach when UConn plays Syracuse this Saturday.

Physical setbacks are nothing new for Calhoun, who has previously beaten prostate cancer. There was speculation that he might retire this summer following the Huskies third national title but it didn't happen. And he still has no plans to do so.

"There's no question (that I plan to keep coaching)," Calhoun told ESPN's Andy Katz Tuesday by phone. "I've talked to the people at UConn and president (Susan) Herbst. I just want to get a resolution on my back."

And that's the plan for now. Calhoun told Katz that he has appointments in New York and Boston for further MRI testing and those finding will determine the treatment and, ultimately, when he can return to coaching.

"It's something I've got to get through," Calhoun said. "I don't think it changes my mind one way or another about next year or the next two years. I just want to get the pain gone from down my leg so I can walk right. Getting onto planes and coaching -- I can't do that right now."

Calhoun has been in pain for some time and said that medication helped him deal with it during a Thanksgiving tournament in the Bahamas last November. But it became unbearable prior to the Huskies-Georgetown game in Washington, D.C. last Tuesday.

"I made it through the game, holding on," he said. "I had a tough time getting out of there, on the plane ride back. There's no way I could coach the next couple of days."

Which means that longtime assistant and close friend George Blaney is the coach. It's a role Blaney's quite familiar with, having taken over for Calhoun on an interim basis several times in recent seasons.