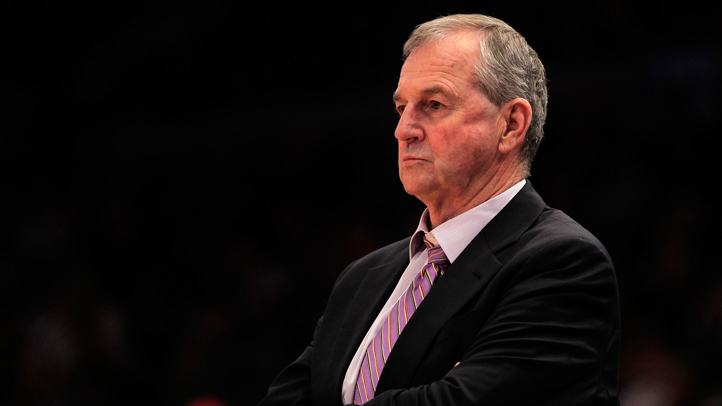 With each passing week it seems that UConn basketball coach Jim Calhoun gets a little closer to making a definitive decision on his future. We're not there yet, but the media keep asking him about it and he has yet to say "That's it, I'm done. See ya on the golf course."

Instead, we get this: "The best thing for me to do, very honestly, is to kind of let it happen," Calhoun said, according to the New Haven Register. "If I'm here on Oct. 15, I'm here. You'll know before hand if I do something different," Calhoun said. "But I'm not going to set any more dates (for a final decision)."

Hey, it's something. A quick refresher to get everybody up to speed: shortly after the Huskies won the national championship in early April, Calhoun twice said he would return in 2011, but in subsequent remarks he indicated that had hadn't decided one way or the other and would take some time this summer to contemplate his next move. A few weeks ago, he told CBSSports.com's Brett McMurphy that he was "55/45" leaning towards coaching in the fall. (As for the Oct. 15 deadline, that sure seems late. A little something for the conspiracy theorists.)

If his schedule is any indication, Calhoun, 69, certainly sounds like a man with no immediate plans to retire. He's busy recruiting, trying to fill the Huskies' last remaining scholarship for next season made available after Jamal Coombs-McDaniel transferred. The Register notes incoming freshman guard Ryan Boatright will be in Storrs June 26 to begin classes and he may not be alone. "We expect to have another player join the program, hopefully within the next seven or eight days," Calhoun said.

More than recruiting, the recent NCAA sanctions for academic underachievement by the basketball team can't sit well with Calhoun. It's his legacy, and he's said more than once that he wants to leave the program in good shape when he finally departs. And while you could argue that there is no better time to call it a career than after a national title, UConn's recent success could be fleeting. Kemba Walker has taken his game to the NBA, the Huskies lost three scholarships for NCAA violations, and if next year's recruiting class doesn't materialize, they will struggle to be among the top teams in the conference. Which, if we're being honest, was the case for most of the 2010-11 season, save the final 11 games.

"To me it's business as usual. You can't make any assumptions any way," Calhoun said. "Right now I'm doing everything possible to make UConn as strong as I can."

As we've said every week for nearly two months: now we wait.