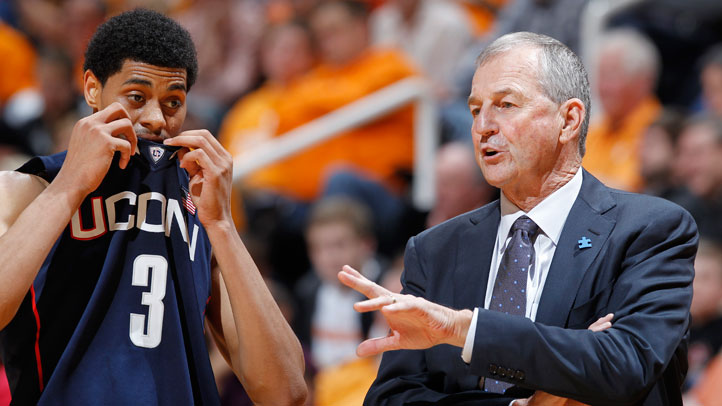 Alex Oriakhi is gone. And depending on what happens in the next seven days or so, the Huskies could also lose their best player, Jeremy Lamb, and the one with the most upside, Andre Drummond. Oriakhi spoke about his future plans with Adam Zagoria of the ZagsBlog.com and in the course of weighing those options, he also weighed in on whether Lamb or Drummond would return to Storrs.

"In my opinion," he said, "I think they'll go."

So there you have it. In Oriakhi's view, the Huskies will lose three key players and head into next season reeling from NCAA sanctions that will keep them out of postseason play. Oh, and they'll have just one incoming recruit, Omar Calhoun.

The Hartford Courant's Dom Amore reports that Jim Calhoun has spoken with Lamb's father, Rolando, about Jeremy's impending decision. "They're about ready to make a decision," the coach said. Conventional wisdom is that Lamb is gone even though late last week, in light of the NCAA sanctions, Lamb said (according to FoxCT's Audrey Kuchen) "It's a tough time for us right now. … We've got to come together. We've got to keep working hard on the books and see what happens. There are a lot of rumors about guys leaving. Not really sure right now, I can't say much. I don't really know."

Calhoun also spoke to Drummond and the freshman is "weighing his options" with a decision expected next week.

Finally, there's Calhoun. There had been speculation that, at 69 and with the program in flux, he might finally retire. We wrote last week Calhoun could be emboldened to stay, and the Courant's Amore says that all signs point so the Hall of Fame coach returning.

"I haven't seen or heard anything from him that tells me he's ready to walk away," Calhoun's son Jeff said. "The fire he has to coach hasn't been extinguished."

Calhoun, who spoke with Amore last Friday, said that he wasn't ready to make a definitive statement although he said he'd like to have some input on naming a successor.

"The university has the right to do what it wants. Would I like to have some influence? Of course I would, and (Athletic Director) Warde (Manuel) has already said I would have some influence. … Would I like to keep it in our family? Of course. Like a father would like to see his son get it, that's the best way I can put it."

As for the NCAA sanctions that made the Huskies ineligible for postseason play in 2013, Calhoun echoed many of the same concerns as the university during its appeal.

"We're not asking them to change policy; we support what they're trying to do," he said. "We'd just like to be able to use the more recent scores. We can have all our scores done by September. If they did that, it would affect maybe 20 or 30 schools."