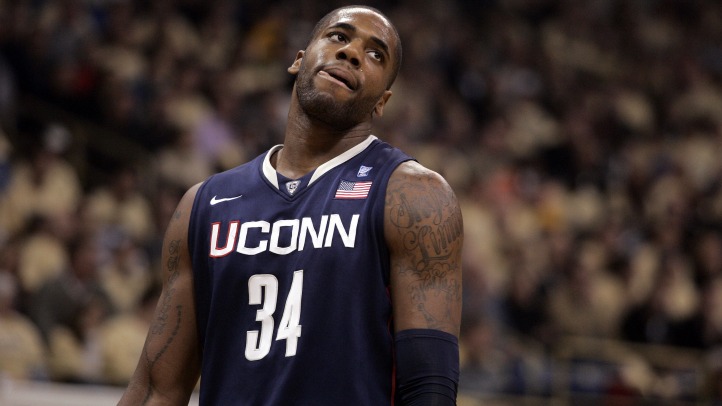 Wednesday was supposed to be a day of celebration for the 2011 NCAA champion UConn Huskies. Instead, coach Jim Calhoun and several players spent time after the event addressing issues that have painted the program in less than flattering light.

We mentioned earlier today that Kemba Walker took the opportunity to clarify his previous comments about only recently reading his first book cover to cover, and Calhoun defended the basketball team's academic record.

Calhoun also spoke about sophomore forward Jamal Coombs-McDaniel, who was arrested last Thursday on marijuana possession charges.

"He's been talked to and the appropriate actions will be forthcoming," Calhoun said, according to the Hartford Courant. "Still on scholarship, still going to class, still doing all the things he needs to do."

As for the possibility that Coombs-McDaniel might transfer, Calhoun offered this: "The day that Jamal came I always thought he needed to be reassured of his place in the program. It's just Jamal's personality. I had a conversation with Jamal before the incident, obviously after the incident. ... He's not the only conversation I've had. We call it spring cleaning and we talk to every single kid."

We have written previously that Coombs-McDaniel's arrest underlines the Huskies' razor-thin margin for error heading into next season. But this isn't the first time Coombs-McDaniel and transferring have been mentioned in the same sentence. He and Calhoun have clashed in the past, and friend and teammates Alex Oriakhi has previously had to convince Coombs-McDaniel to stay in Storrs. Now he's taken a more hands-off approach.
"He's just trying to focus on school work," Oriakhi said of Coombs-McDaniel on Wednesday. "I've talked to him a little bit. I don't even really know what happened. I just know he's trying to focus on finishing the school year right. I'm kind of letting him have some time to himself right now. ... I definitely [want him at UConn] but whatever decision he makes I will definitely support. He's always going to be like a brother to me, whether he stays or go. If he feels like he can stay and be part of this team, I'm all for that. All I can do is support him. He's my best friend and he's always going to be like a brother to me."

This could be nothing more than a bump in the road as the Huskies prepare to defend their national title in the fall. Or this could be another chink in the metaphorical armor we talked about earlier this week.