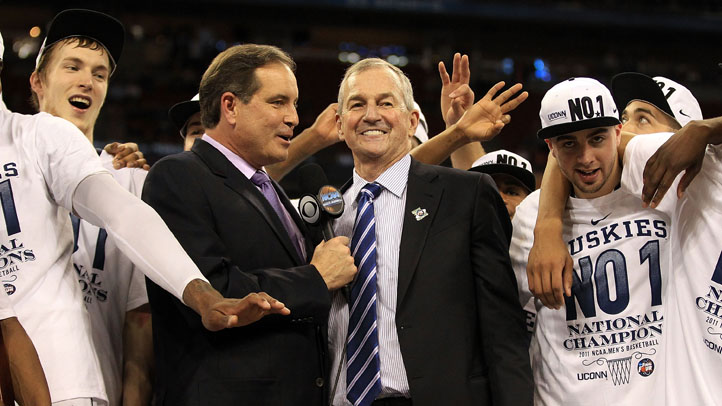 It's been a busy week for Jim Calhoun. He accompanied the UConn basketball team to the White House Monday where they were honored for their 2011 national championship run. Two days later, he was in Manhattan to receive the Winged Foot Award from the New York Athletic Club. No word on if Calhoun attended to any basketball-related business during that time (like, say, recruiting for next season), which would help shed light on his immediate future with the program.

For as many times as Calhoun has been asked about his coaching plans for 2011 and beyond, he has always provided the same noncommittal response (well, save the first two times the question was put to him). Nothing changed in the hours before he was honored Wednesday. Details via the Hartford Courant:
…A relaxed Calhoun answered questions on subjects ranging from Monday's White House visit with President Barack Obama to the future NBA prospects of Jeremy Lamb. On and on Calhoun talked and he spoke affirmatively about the 2011-2012 Huskies as if there was little doubt he would be on the bench.

Yet, when asked directly if he is or is not retiring, Calhoun insisted he has not made a decision. After being on the road for 22 of the past 26 days and with more commitments in his immediate future, Calhoun said he's in no place emotionally to make such an immense decision.
And so the mystery continues as it has for the last six weeks or so. Calhoun indicated that he should be closer knowing something next month. "By the end of this month, I'm pretty good," he said. "Then I can do a little more reflection. … It's too close and the afterglow is too good, so I've got to get a little more distance away from it. I think June is a good month. That will be a good time because I haven't gotten away from the game."

As we have noted previously, it's been a rocky few weeks following the Huskies improbable national title. forward Jamal Coombs-McDaniel was arrested and later transferred, the NCAA could sanction the program for poor academic performance (the results will be announced May 24), and the Huskies lost its best recruiter to Providence.

The Courant's Paul Doyle writes that "Calhoun is operating as if he'll be running the program next season." There is also the slim possibility that Calhoun doesn't retire until October, insuring that Kevin Ollie gets the job.

For now, Calhoun remains busy. He will be at Dick Vitale's charity gala this weekend, attend Big East meetings next week, and deliver a graduation speech at Dedham High School (Mass.) where he began his coaching career. And when the time is right, he'll let us in on his plans for the fall.