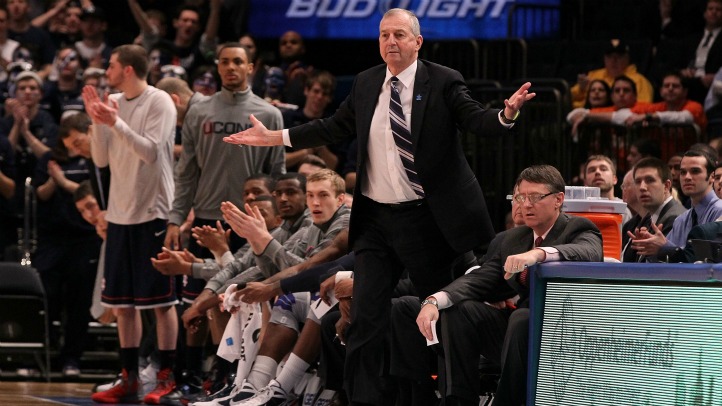 Last week, UConn athletic director Warde Manuel said that he fully expected head coach Jim Calhoun to return for the 2012-13 season. "All indications to me, in conversations, yeah. I haven't worried about that based on our conversations. I don't have any doubt."

On Wednesday, Calhoun sounded less confident in the notion that he'd be on the bench for another season.

"It's really not worth asking … right now, everything we're doing is planning on next year," he said from 2012 Franciscan Sports Banquet at the Aqua Turf Club in Southington, according to the New Haven Register's David Borges. "Last year, quite frankly, after the championship, there was time to pause. 'OK, you're at this particular pinnacle, what do you do from here?' But right now … I really don't start thinking about the road trips, etc., until August or September ... The important thing is how I feel as a coach, and am I able to give my kids everything I possibly can. The fact that I have two years on my contract doesn't mean anything … there's really nothing to talk about, in my mind. If I decide it's not the year, it's not the year. I love the staff, love the kids coming in, love the guys coming back."

A year ago, Calhoun was noncommittal on his future until late summer. It probably helped that the Huskies had landed Andre Drummond, the best high school player in the country. Either way, just like last offseason, the 70-year-old coach doesn't seem to be in any particular hurry to solidify his professional plans anytime soon.

"'I played for Bo Schembechler, who made all his decisions on how he wanted to do it,'" Calhoun said Manuel told him (via Borges). "Dean Smith did it the exact same way. He retired on Oct. 1. My point being, I never feel rushed. I knew we had to get through the semester, we did exceptionally well, I know we had to get a few more players to add to the roster, and I know I'm talking on the phone to a lot of recruits."

Calhoun spoke in detail about the recruiting process ("August would be a very big month for us") as well as what the team has to play for next season despite being ineligible for the conference and national tournaments ("There's a lot to play for…"). Which are two topics that a coach with his eye on retirement might not pay particularly close attention to at this stage of the proceedings.

So for now (and just like last summer), until we hear otherwise, we're working on the assumption that Calhoun will be back.