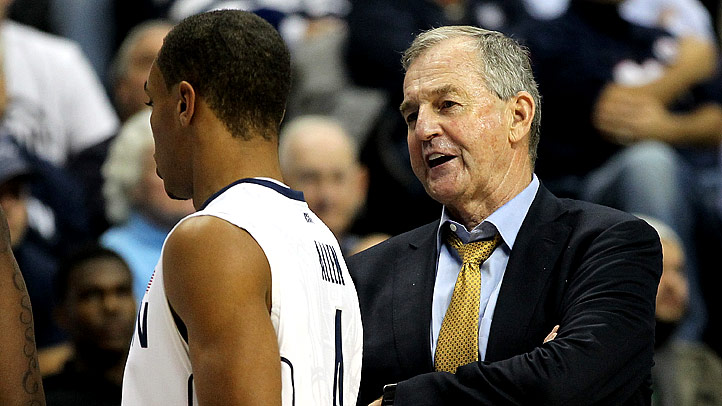 It was John Calhoun's first game back after a three-game suspension and given that the Huskies didn't show up, we're sure he wishes he stayed at home, too. By the time it was over Saturday night, UConn headed back to Storrs 67-60 losers, and more than that, with plenty of questions about the immediate future of this young team.

After the game that dropped the No. 8 Huskies to 12-3 overall and 2-2 in the Big East, many of the same questions Calhoun had in in the previous weeks remained. Namely, who's stepping up to be the leader, and more than that, is anyone interested in playing defense.

"After 26 years in the Big East you know you can get anybody anytime any night," Calhoun said Saturday. "This Rutgers is a hungry young basketball team that played with a sense of purpose. They'll lose some more and win some more."

But the eternal pessimist also showed up, no doubt frustrated with the way his team -- young or otherwise -- performed: "There isn't a lack of leadership," he said. "We have none." Sophomore guard Shabazz Napier's response?

"I guess I'm not a good enough leader," he said Sunday, according to the Hartford Courant. "It shows on the floor. Sometimes guys give me the chance to be that person, sometimes not. ... Guys don't always listen, and it [stinks]."

An oversimplification from both coach and player, for sure, because without Napier and Jeremy Lamb this team would be 0-15. In fact, the two combine for 31 points but clearly it wasn't nearly enough against a Rutgers team that plays well at home but whose only other noteworthy win this season came against Florida.

Calhoun also noted: "They more than earned the victory. Especially when you consider they are one of the younger teams in the country." Which is certainly something the Hall of Fame coach kept has kept in mind this season, even if he rarely brings it up. No matter, there's no changing history; the Huskies loss to Rutgers and have now dropped two games in a row. And whether they're prepared or not, they'll face West Virginia on Monday. Which is why Calhoun is ready to move on.

During Sunday's practice, Calhoun was especially ornery. Details via the Courant's Dom Amore:
The noise was reserved for practice Sunday morning at Gampel Pavilion. The Huskies assembled at noontime and went hard for 90 minutes or so, Jim Calhoun barking - working "blue" as comedians say. "You had 20 [bleeping] turnovers last night," he yelled out at one point. "You're trying for 50 today."

"... Keep PLAYING" he screamed after one lackluster offensive sequence. It's not unusual for Calhoun to be intense, of course, but it's the most animated he has been during a period in which practice was open to reporters this year. "Why would I come out dead-ass if I expect them to respond," Calhoun said afterward.
Calhoun's demeanor isn't out of the ordinary. In fact, it's not altogether different from what we've come to expect from him no matter the Huskies outcome. One of the benefits to having a veteran coach is that there's very little he hasn't seen before. And more than that, he probably has a good idea for how to fix whatever ails this team.

"Right now, we're working to get back on track," Calhoun said. "Clearly, we're off track."
Unfortunately, they only have a couple days to un-derail this train. If history is any guide, the Huskies will show up against the Mountaineers.