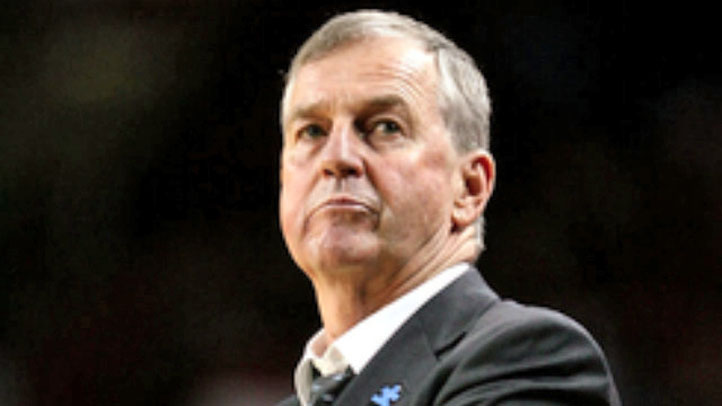 It's been a busy offseason for UConn basketball coach Jim Calhoun, and for the most part, not in a good way. He has had to defend his program against academic underachievement; lost Andre LaFleur, his best recruiter, to Big East rival Providence; and had one of his top bench players arrested last week on marijuana possession charges.

The Huskies' national championship win over Butler feels like it was more than three-and-a-half weeks ago.

And in what has become a weekly ritual, Calhoun remains noncommittal on his future coaching plans. Speaking during Husky Day Wednesday, the 68-year-old Calhoun said, "I haven't made my mind up about anything of that nature, but [players] will be in good hands no matter what."

We've mentioned it before, but it's bizarre that Calhoun equivocates on this topic. Not that he might retire -- that would be understandable given his age and all that he has accomplished -- but that he has stated previously in two separate radio appearances following the Huskies' NCAA championship victory that he would coach in 2011-2012.

"There's no rush," Calhoun said Wednesday. "Last year I had to rush. This year, I don't have to rush. The minute the horn went off and we won the national championship, I had to find out what is best for me, where I feel most comfortable and if I wasn't coaching,what I would do."

We agree that there's no rush on the decision (the front runner to replace him appears to be first-year assistant and former player Kevin Ollie), but find the mixed messages ... well, peculiar. Either way, we'll know something by late summer. "As long as I'm there for the first day of classes, it doesn't make a difference," he added.

In the meantime, Calhoun is still looking for a new director of basketball administration (which seems like something a coach with designs on hanging around might do). The Hartford Courant's Mike Anthony writes that likely candidates include Kevin Freeman and Ricky Moore, and perhaps former UConn assistant Karl Hobbs and former UConn player Donyell Marshall, who both lost jobs recently at George Washington.

As suspected, director of administration Glen Miller was promoted to fill LaFleur's assistant job.

"I have great candidates lined up," Calhoun said, according to the Courant. "I've put that off. I want to make sure where I am, where the program is, and all that type of things. ... I called Karl right away. I'm not going to speculate on any candidates. But I talked to Karl right away and I talked to Donyell right away. I felt badly because it happened kind of late."