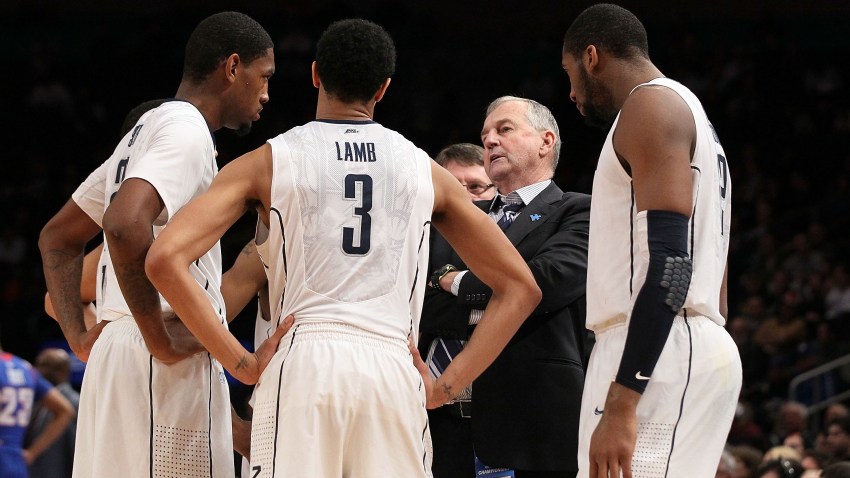 Jim Calhoun has beaten cancer so he's not going to blink because he's losing players like rats off a sinking ship. Since the season ended in late March, UConn has had Jeremy Lamb and Andre Drummond declare for the draft, and Alex Oriakhi, Michael Bradley and Roscoe Smith transfer.

That means the Huskies will be without four of its most important players next season and, as it stands, only have six scholarship players currently on the roster. Incoming freshman Omar Calhoun will help but he won't magically solve everything. Holy Cross transfer R.J. Evans will add depth and UConn could possibly try to land two more frontcourt players although coach Calhoun admits that he's not going to use scholarships on lesser talents just because he has a need.

We've spent hours talking about this," he said over the weekend. "Do you sacrifice to maybe get three more wins next year? Certainly, we want to have a winning season, but I think now, more than usual, we're looking toward the future."

Calhoun told ESPN's Andy Katz that while the Huskies' situation isn't ideal, he's not concerned. "Scoring-wise, we'll be fine," he said of Shabazz Napier, Ryan Boatright and Omar Calhoun. "We'll need help up front."

As is stands, the rest of UConn's rosters looks like this: forwards DeAndre Daniels, Tyler Olander, Enosch Wolf, Niels Giffey and Evans. Calhoun told Katz that none of his other players expressed an interest in leaving the program so, presumably, this is the core of the 2012-13 squad with the possible additions of one or two big men.

The Huskies are holding out hope that the NCAA will reverse its decision to ban them from the 2013 postseason for low Academic Progress Rate scores, but based on recent comments by an NCAA spokesman in response to complaints from Connecticut lawmakers (see our previous post), that seems like a long shot.

But maybe this is in the program's best interests, at least in the long run. As ESPN.com's Eamonn Brennan writes, "If we learned anything in 2011, Calhoun is never better than when he's backed into a "you can't succeed with these guys"-kind of corner."