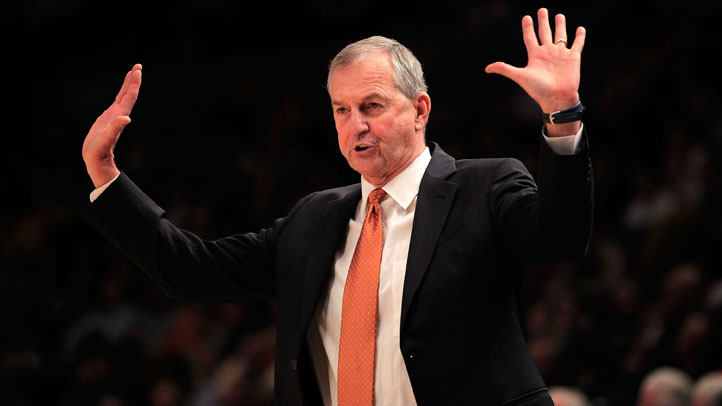 On Wednesday, coach Jim Calhoun said he's "feeling better" a month after fracturing his hip in a cycling accident. While that's good news, Calhoun's future remains a mystery. Annual conversations about his retirement surfaced again this summer, and speculation intensified after his cycling mishap in August.

In an Sports Illustrated exclusive published Thursday morning, Calhoun reiterated that he has yet to make up his mind but said that there will be some resolution very soon.

"I would be very, very surprised if I didn't have something to say within the next two weeks,'' the 70-year-old Hall of Fame coach told SI.com's Mark Blaudschun.

Calhoun has two years left on his current contract (a fact he brings up every time questions about his future arise) but perhaps he's finally coming around on the idea that his work in Storrs is done.

"I could have walked away last year,'' Calhoun said in reference to UConn's improbable run to its third national title in April 2011. "But I walked off the stage [in Houston], there were 70,000 people and we had all those guys back. I couldn't do it. I thought we could do it again. We had the players. We had a team that won 53 games in two years. We've had 25 consecutive winning seasons. That's hard to do.''

At the time, yes, it was hard to do. Everybody but Kemba Walker would return and Andre Drummond was coming in. You'd be insane not to coach that team. In retrospect, however, maybe Calhoun should've gotten out while he was ahead. By almost any measure, 2011-12 was a huge disappointment and it only got worse when the NCAA banned UConn for the 2013 postseason for low APR scores.

According to Blaudschun, Calhoun "waffled on his decision on whether to return for months" and then he fractured his hip.

"Depends on how I feel sometimes," Calhoun said. "But I'm very close to knowing. I'm just going to wake up one morning and I will know what is the right thing to do. I always said if I ever come here and say, 'Jeez I'm not sure, I will know it's time.'''

Then the question becomes: Who succeeds him? Calhoun hasn't hidden the fact that he'd like Kevin Ollie to take over. But athletic director Warde Manuel has said previously that this isn't a coach-in-waiting situation.

For now, Calhoun's still the coach and UConn is still his team. All we can do is take his advice -- "I learned a long time ago, that if you spend a lot of time worrying about things you can't control, you won't control the things you should." -- and wait.