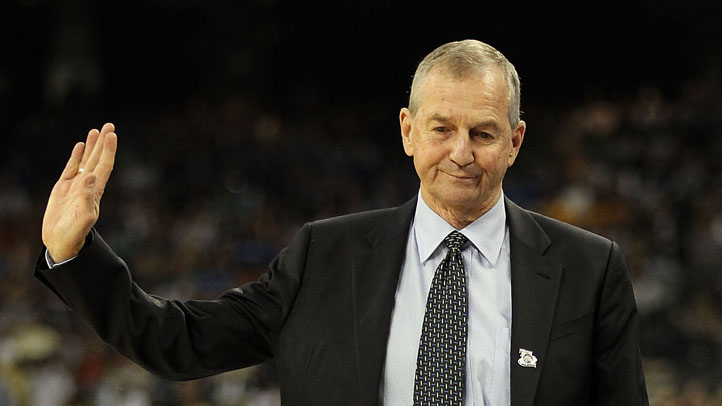 It's a start even if it came against DePaul (11-14, 2-11 in the Big East). The Huskies, losers of six of seven coming into Wednesday night's game, beat the Blue Demons, 80-54, and for the first time in a long time looked like a legitimate top-flight program.

It's been a rocky season for countless reasons, primary among them: UConn is long on talent but short on experience, and the lack of leadership caught up with them. Along those lines, team leader and coach Jim Calhoun has missed the last four games with a back injury (spinal stenosis), and this comes after he missed the first three games of the Big East schedule because of NCAA sanctions.

So while the win was a nice change for the defending champs, the joy was temporary.

"There's nothing to relax about, we definitely still have to fight," Alex Oriakhi said after the game. "Anything can happen, we're in good shape and nobody's losing faith at all."

It's just that "anything" will have to happen without Calhoun, who still isn't ready to return to the bench. There's still no timeline on when he'll be back but this much is certain: it won't be Saturday against Marquette or Monday when the team travels to Villanova.

"I am hoping by the middle of next week we will have a much clearer picture," Calhoun said through a UConn spokesman (via the Hartford Courant), "of where we are and when I can look forward to doing what I do."

Best-case scenario: Calhoun makes it back for the February 25 game against Syracuse (it's ESPN's College Gameday game), the third-to-last game on the regular-season schedule. But even that seems optimistic.

"I'm happy that we seem to have located the problem," Calhoun said, "and I am currently moving forward with treatment. We have to give that treatment time to see whether or not it is effective."

There had previously been conversations about surgery, something that's still a possibility should the treatment not work.

"He's the best I've ever seen at assimilating information," said interim coach George Blaney. "His brother [Bill, a cardiologist] has been monitoring everything, and Jim will just assimilate all that, 'Here's what we're going to do, one, two, three …' and break it down like that, whether its basketball or his health. … It has just taken longer this time because backs are so [complicated]."

For now, the Huskies have to focus on the rest of the regular season. Because they'll need to play well down the stretch and in the Big East Tournament -- with or without Calhoun -- if they want to avoid being on the wrong side of the bubble come Selection Sunday.