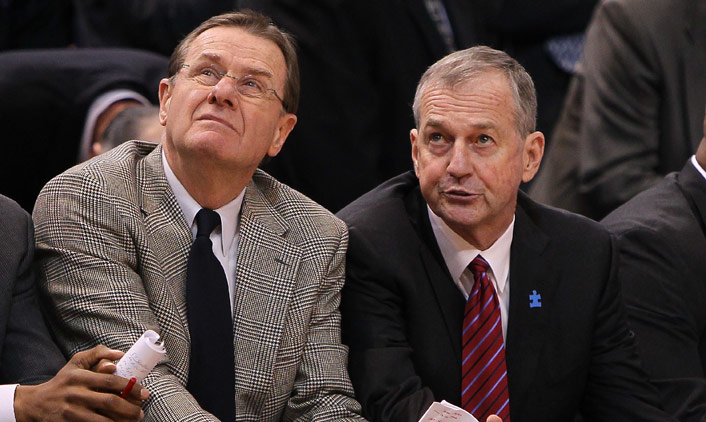 Assistant coach George Blaney has filled in admirably once again for Jim Calhoun. Blaney went 2-1 during the Huskies' first three conference games and now he'll return to his familiar spot on the bench next to Calhoun, who was so eager to return to practice that Blaney handled Thursday's conference call.

"We know what his message is going to be [from coach Calhoun]," Blaney said, "it's going to be 'defend,' it's going to be 'run,' it's going to be 'compete' and it's going to be 'rebound.' Those things are the core of what we do."

And then Calhoun will stress "defend" again 10 or 15 more times. It was the Huskies defense that played a non-trivial part in their loss to Seton Hall Tuesday, and Calhoun, who watched the game from his home like the rest of us, admitted as much a day later.

"I was really surprised that we're just getting looser on defense," he said according to TheDay.com. "… We just played very poorly offensively. We're proving once again that we have some work to do. … We needed leadership out of the backcourt and we didn't get it. We needed some of the veterans, Alex (Oriakhi) and Roscoe (Smith) and Shabazz (Napier) to step up and that didn't happen. So that's disappointing."

We're quite certain Calhoun will get things sorted out before Saturday's matchup against Rutgers. He's been away from his team since December 28; there's plenty to catch up on, especially after UConn's performance against Seton Hall. But it's not just the Huskies' inability to play defense that has to concern Calhoun. The Pirates' zone defense also gave UConn fits.

The Huskies shot 32 percent (7 of 22) from behind the arc against Seton Hall, but managed to convert just 18 percent of their looks in the second half (2 of 11). Couple poor outside shooting with very little presence inside (both in terms of points and rebounds) and ill-timed turnovers, and that's how you get blown out on the road.

"[Seton Hall] really extended the zone and forced us really high," Blaney said according to the Hartford Courant's Dom Amore. "We wound up taking a lot of long shots at the end of the clock and were very stagnant. … We went from passing the ball so great in the St. John's game to becoming very stagnant for a good portion of the game."

Blaney was also quick to point out that the Huskies had very little trouble with St. John's zone defense so it's not a persistent problem. One difference: Seton Hall is a bigger, more experienced team.

"Every night we try to have 40 deflections," Seton Hall coach Kevin Willard said Tuesday night. "If you get a hand on the ball, it's going to stop someone from getting an open shot. … As young as we are and with the [short] bench we have, the zone helps you get a little bit of a rest. It helps in rebounding. I still like playing man-to-man, but we're playing well in the zone."

As as Amore points out: Shabazz Napier is the catalyst. When he's playing well, the defense doesn't matter. When he struggles to find his shot, it makes sense for opponents to stay in zone looks until UConn gives them a reason to change.

Obviously, Calhoun knows this, and it's something the Huskies can expect from future Big East teams. It may also mean more playing time for Niels Giffey, perhaps the team's purest three-point threat who has been buried on the depth chart this season.