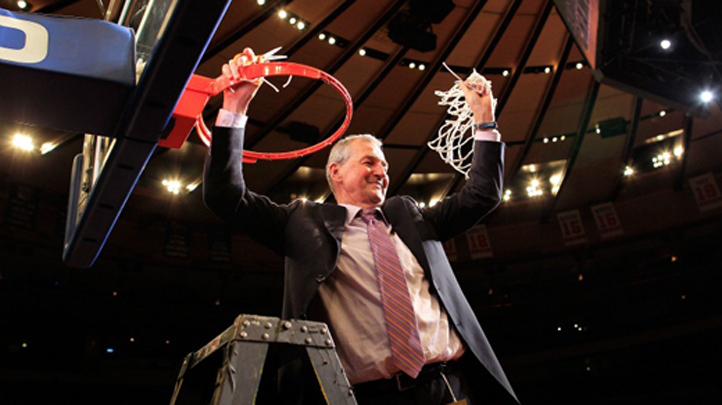 So remember all that talk over the summer about Jim Calhoun retiring? It was mostly a story he perpetuated. Or, at the very least, refused to deny while he weighed his options.

We never thought he'd leave. Partly because, well, what else is he going to do? He doesn't strike us as they type who sits around all day happily doing nothing. But also because of Andre Drummond, who committed to the program late in the summer and immediately transformed the Huskies from upstart to legitimate national title contenders. Maybe that was just coincidence; either way, Calhoun's back doing what he does, and he sounds like he never had any intention of doing otherwise.

"I don't necessarily think I have a job unfinished," Calhoun said this week, according to the Associated Press. "But (UConn President) Susan (Herbst) certainly wanted me to come back. I like coaching basketball. Thank God I'm healthy and there's no reason for me not to want to continue to coach."

There was a brief stretch shortly after the Huskies won the national title in April, where it appeared that Calhoun may have coached his last game. Kemba Walker left for the NBA, NCAA violations (both academic and recruiting) led to the loss of three scholarships, and sixth man Jamal Coombs-McDaniel was arrested on drug charges before transferring. Then the Huskies landed a few key recruits -- including Drummond -- and Lamb continued to blossom while playing with the U-19 US National Team this summer, and there was really no reason for Calhoun to call it quits.

"There is a wear-down effect sometimes about those things, so you can't wait to get out on the floor and coach basketball," Calhoun admitted though he says he felt rejuvenated by the Huskies' 11-0 run through the Big East and NCAA Tournaments.

"The key thing was, we were coaching basketball," he said. "We weren't worried about problems, staying fixed on the situation, and I think that's the key thing."

And Herbst, for many of the reasons we outlined above, doesn't see Calhoun going anywhere.

"I don't see any signs of Jim slowing down," she said, via the AP. "I think Jim is in terrific shape. He looks great. He's full of life and I haven't seen any slow times since I've come to know him. Since the winter I've just found him to be very high energy and very focused. So he's a real sort of effervescent force."

With the regular season getting underway Friday, that should only intensify.