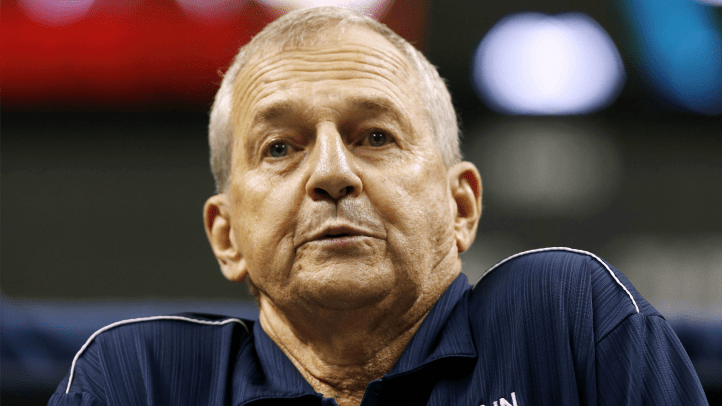 The Huskies wrapped up their visit to the U.S. Virgin Islands Paradise Jam Monday night and head back to Storrs to begin the mainland part of the schedule. Last week, before their first game with Wake Forest, Hall of Fame coach Jim Calhoun sat down with the Virgin Island Daily News to talk -- what else -- Huskies basketball.

Calhoun's affiliation with UConn goes back more than a quarter-century and even in retirement he's still close to the program. After announcing his retirement in September, the university named him assistant to athletic director Warde Manuel. As such, he keeps close tabs on practices and games -- not to critique Ollie's team but to be around the program he built. Plus, what else is he going to do?

"If I couldn't get my sniff and hear the ball bounce I'd feel kind of funny," he told the Daily News last week.

"My role, as a guy who loves the game, is to hopefully be a resource for Kevin," Calhoun continued. "We're two different kind of coaches. I'm a guy that'll get on you pretty good and then later on let you know how much I love you. Kevin's more positive. I love him like a son, really. He's a special guy."

Calhoun, who recruited every player on the roster, admitted that this group doesn't enter the season with the accolades and expectations of recent Huskies teams. But that's not necessarily a bad thing.

"This team is not as good, but it has some things about it I really liked in the first two games," he said prior to the Wake Forest game.

Of course, no matter how well the Huskies play, there will be no postseason prize in their futures. UConn was barred from playing in the conference and national tournaments for low APR scores, something that happened on Calhoun's watch.

"It happened and I was the head coach, and I felt responsible, without question," he said before noting that "Our past two APRs are close to 1,000, so the way the NCAA, as you know, does things now is kind of retroactive, and to be honest, it was a lose going forward."

With nothing to play for at the end of this season, Calhoun thinks this could ultimately be a great experience for a young Huskies group.

"This team, in some sort of ways, has the purist approach to basketball," he said. "They're playing to win games and then keep right on going. The only tournament is every single game they play."

And next year, when they are eligible for postseason basketball, they'll have these experiences to draw upon.