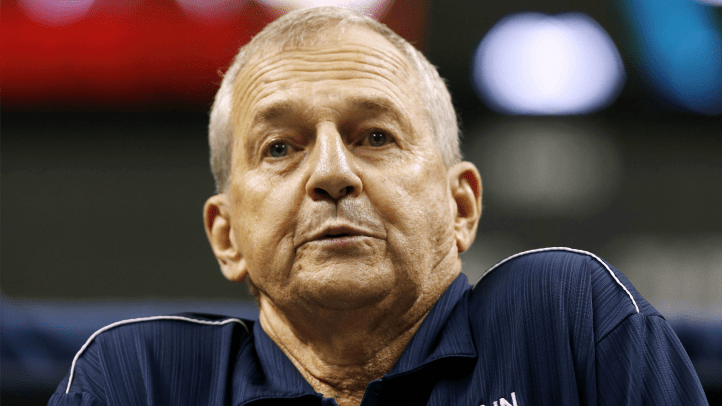 Officially, Jim Calhoun is now the assistant to the athletic director. Unofficially, his biggest chore will be to steer clear of the spotlight while his hand-picked successor Kevin Ollie tries to revitalize a program that faces NCAA sanctions this season. Calhoun, who spent 26 years on the UConn bench and brought three national titles to Storrs, admitted Friday that he has to be wary of being too present.

"I've got to watch my shadow," Calhoun told Sirius XM's Chris Russo (via the Hartford Courant). "I don't want, necessarily, the first exhibition game to be seen down at courtside, having everybody look if the team's not particularly playing well.

"No, I don't need that. But, in turn, I'm going to be there for my players because I recruited all these kids. I'm going to be there for Kevin [Ollie]. I'm going to be there for our staff who I love. … I don't want to rain on [Ollie's] parade, I don't want to cast a shadow at any point in time."

Ollie, who played for Calhoun in the mid-90s and returned two years ago to become an assistant, has seen his life -- and his profile -- change in the time it took for the university to announce that he would be replacing the legend.

"Normally, I can slip in and out (to the student union), maybe get my salad without anybody saying anything," he said. "But today, kids were coming up, 'hey, Coach … congratulations.' It's a little bit different."

It's going to be this way for a while. Meanwhile, Ollie has many more responsibilities, from organizational recruiting meetings with his staff to talking with his players.

"My message was the same as it has been: It's about loyalty," he said. "I want them to know that I'm loyal to them and I believe in them. They showed the loyalty, sticking it out here. They could have left [when others were transferring last spring], but they want to be here. I think we're going to have a nice team."

Athletic director Warde Manuel made it clear in previous months that, despite Calhoun's wishes, a coach-in-waiting situation wouldn't be an option. Of course, the timing of Calhoun's announcement made it difficult for anyone but Ollie to get the job although his contract will expire next spring. Putting aside Calhoun's angle, maybe Ollie will be the best thing for this university and its basketball program. Put differently: we shouldn't dismiss Ollie out of hand simply because of how he got the gig.
Ultimately, he should be judged by his accomplishments and we'll all get plenty of opportunities to do that in the coming months.