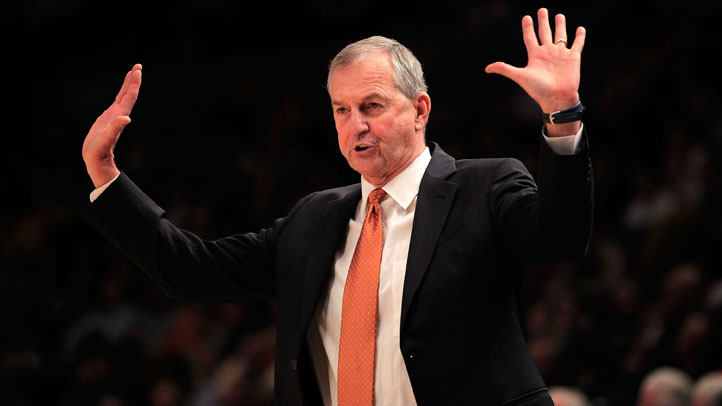 Coach Jim Calhoun might have been disappointed in the 2011-12 Huskies and what they failed to accomplish on the court but the Hall of Fame coach was recognized Monday as one of the three winners of the Mannie Jackson Award for Human Spirit presented by the Naismith Hall of Fame.

Former Duke standout and NBA player Grant Hill and Dr. Richard Lapchick, founder and director of the Institute for Diversity and Ethics in Sports, were the other winners. The three will be officially honored in a ceremony in Springfield, Mass. on Sept. 6.

"They have each greatly contributed to the improving of their communities and constituencies they serve," said John L. Doleva, president and CEO of the Basketball Hall of Fame, in statement.

To be considered for the award, nominees have to meet certain criteria, including "embracing the core values of the game through hard work, dedication and resilience; striving to continuously improve the community they serve, and making an ongoing commitment to the others."

Calhoun's career hasn't been without controversy -- from recruiting violations to NCAA-imposed sanctions for poor academic performance -- but he's also championed various causes. Details via The Day of New London's Gavin Keefe:
"He's devoted time and money to cancer research and education, generating millions of dollars. He serves as the honorary chairman for the Juvenile Diabetes Foundation. He's raised over $1 million for the Connecticut Food Bank and Foodshare with his annual holiday food drive, providing over 1.6 million meals to needy families. Calhoun and wife, Pat, established the Calhoun Cardiology Research Fund in 1998."
Calhoun, Hill and Lapchick were chosen from among six finalists for an award that, according to the release, "reflects the values of Mannie Jackson's lifelong mission to overcome obstacles and challenge the status quo while taking responsibility for personal actions and seeking the highest standard of excellence."

Said Jackson, who owns the Harlem Globetrotters: "Having known all three personally, I admire their sustained work and contributions to both the game of basketball and their communities."