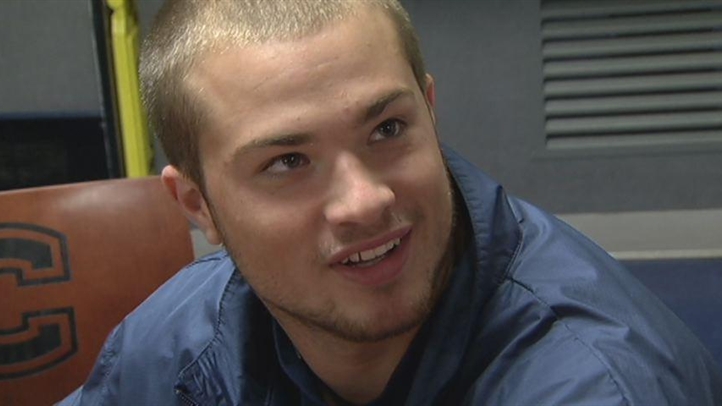 Two weeks into the season and calls for a quarterback change are growing. Depending on your perspective, that's either too soon or too late. Johnny McEntee was UConn's starter for the Fordham and Vanderbilt games, but his performance against the Commodores in Nashville last week convinced pretty much everybody but coach Paul Pasqualoni that Scott McCummings and Michael Nebrich need to get a few more snaps.

It can't get worse, right? McEntee was 10 for 27 for 99 yards, no touchdowns and three interceptions against Vanderbilt. We're pretty sure McCummings and Nebrich could manage that, too.
Well, Hartford Courant columnist Jeff Jacobs thinks that if the Huskies don't give Nebrich, a freshman from Potomac, Virginia, an opportunity against Iowa State Friday night, it will be a sign of panic.

"Somewhere in the last four days the word "continuity" has replaced the word "production" as the UConn quarterback buzzword. For weeks, coach Paul Pasqualoni has talked about how production would decide who among his four, then three, quarterbacks would emerge as his starter."

We agree that the two other QBs should get more snaps but the decision to stick with McEntee isn't a "panic" move, but a risk-averse choice. And football coaches are, above all else, in the business of minimizing risk. But our issue with Jacobs' argument is a semantical one. On the main point -- let's see more Nebrich -- we're of like mind.

Whether Pasqualoni and offensive coordinator George DeLeone feel similarly is another matter.

"We'll go back to work with the three quarterbacks this week and have all three ready to go," the head coach said on a conference call Sunday. "We won't make any decision, as we don't each week, until we get to the end of the week. But we're going to start back up [Sunday] with the idea and the notion that we're going to have three ready to go again."

One reason the coaches might choose to stick with McEntee is that he's the most reliable of the three. After all, there's a reason he won the job coming out of camp. More than that, it's not like the Huskies went into the season knowing that they needed to throw for 300 yards a game. They need a game manager, someone who can complete the passes that he's supposed to, but also get out of the way and let the running game and the defense do their jobs. And with redshirt sophomore running back Lyle McCombs' emergence over the first two weeks, it could be even more reason to stay with McEntee.

So, yeah, the Huskies have hit their first rough patch of the season, but that wasn't unexpected. Whatever happens, it shouldn't be a long-term problem; Casey Cochran will be in Storrs next summer and by then it could be his job to lose.