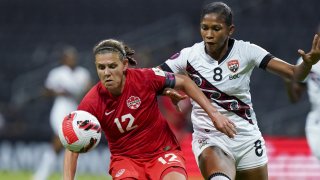 Canada women's national team coach Bev Priestman says the dispute between her players and the Canadian federation is weighing on the team as it prepares for its opening match of the SheBelieves Cup against the United States on Thursday.
The Canadian players say there have been drastic cuts to the program ahead of this summer's Women's World Cup in Australia and New Zealand.
Late last week the women announced they wouldn't participate in team activities and skipped practice on Saturday, but the federation maintained it was an illegal strike and the players reluctantly returned to training.
Canada plays the U.S. women on Thursday night at Exploria Stadium in Orlando, Florida, to open the round-robin SheBelieves Cup. Japan and Brazil also are taking part in the tournament, which visits three U.S. cities.
Priestman, who coached the Canadian women to the gold medal at the Tokyo Olympics, spoke to reporters Wednesday via a conference call.
"As a coach and as a group of staff, it's very challenging. But what I will say is I'm incredibly proud and honored to represent the group of players I have in front of me," Priestman said. "I think what comes out loud and clear to me is this group, they're not just fighting for themselves in the next six months. I think what is really strong for this group is to make sure that the next generation of players that come through have the same opportunity to represent themselves and perform at the highest level, just like their counterparts."
Team captain Christine Sinclair said the team is playing the tournament in protest. On Wednesday, players wore their jerseys inside out during practice.
"We are being forced back to work for the short term. This is not over. We will continue to fight for everything we deserve and we will win. The SheBelieves is being played in protest," Sinclair posted on social media.
The Canadian women claim they've had to cut training camp days and full camp windows, as well as trim the number of players and staff invited into camps. They've been told there will be no home games scheduled before the World Cup. They also say they have not yet been compensated for playing in 2022.
The dispute is the latest for Canada's players — both the men and women — who are in the midst of talks with Canada Soccer for a new collective bargaining agreement. The women are seeking equal pay to the men.
Last June the men's team — at the time preparing for its first World Cup appearance in 36 years — boycotted a match against Panama in Vancouver to draw attention to the issue.
Both national teams have raised questions about Canada Soccer and its relationship to Canadian Soccer Business. The CSB represents the federation in media and sponsorship deals, and in turn it pays the federation a guaranteed sum per year. The CSB did not immediately respond to an email from The Associated Press seeking comment.
After the women's team skipped practice on Saturday, it announced later that day that it would return to training when Canada Soccer threatened legal action.
"Canada Soccer respects the players' right to organize," the federation said in response. "The players, while having taken job action, were not and are not in a legal strike position under Ontario labor law."
The federation also said: "Canada Soccer has committed to negotiating a comprehensive collective agreement with both of the player associations of the Women's and Men's National Teams. That agreement, once concluded, will be a historic deal that will deliver real change and pay equity in Canada Soccer."
Priestman said she hopes the issue is solved as soon as possible for both the players and staff as they try to prepare for soccer's biggest tournament this summer.
"Naturally, I want this resolved as quickly as I can, as quickly as we can. I know that's what (Canada Soccer) want, I know that's what the players want. Why? Because I think you can imagine, it's supposed to be the most exciting year of their careers, and to start the year like this isn't great," she said. "But I think more importantly, on the pitch, you lose training sessions, you have players emotionally drained. It's been draining and emotional for myself, too, just trying to navigate the difficult circumstances that I'm in. So I want this resolved as quickly as both parties do, to be able to move forward."
The U.S. women, who fought their own battle for equal pay with their male counterparts and struck a deal with U.S. Soccer last year, said they supported the Canadian players.
"They literally haven't been paid for all of 2022 and so far in 2023. It's the fact that they were patient and still to this day they're seeing their federation not live up to their word," U.S. forward Alex Morgan told reporters in Orlando. "They're done waiting, they're done being patient."
Copyright AP - Associated Press