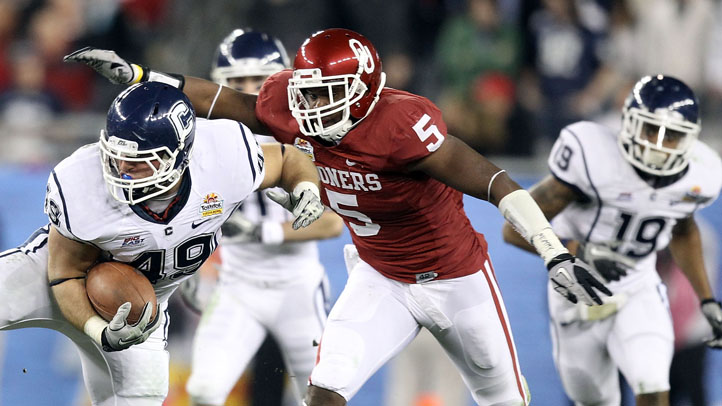 Anthony Sherman was the first UConn football player taken in last week's NFL Draft. We're not sure if it came as a surprise to him, but it did to everyone else. Not because Sherman, a 5-10, 242-pound running back didn't deserve it, just that teammate and 2010 Big East Player of the Year Jordan Todman seemed like a shoo-in for the honor.

Instead, the Arizona Cardinals took Sherman in the fifth round (pick No. 136), a round before Todman. In the days since, the selection has raised questions becabouse the Cardinals, a five-win outfit a year ago, had more pressing needs than running back -- especially since the club selected former Ohio St. RB Beanie Wells in the first round of the 2008 draft, and took Virginia Tech RB Ryan Williams three rounds before Sherman.

But for Arizona, a team that made a Super Bowl appearance following the 2008 season, there is a method to the madness. Via the Arizona Republic:
The best player available philosophy saturated the draft for the Cardinals. They took tight end Rob Housler in the third round, although the position wasn't their greatest need. And in the fifth round, they drafted a fullback, Anthony Sherman, even though that's a position the team uses only 15 to 20 plays.

The Cardinals had Williams, Sherman and cornerback Patrick Peterson, as the highest-rated players at their positions and saw no reason to pass on them.

And Sherman had additional value because the Cardinals think he will make great contributions on special teams.
Sherman wasn't drafted for his ball-carrying prowess; he had just 17 touches for 61 yards in his UConn career. He's in Arizona because he's a technician as a fullback and a terror on special teams.

Fullbacks are disappearing from NFL rosters, but Cardinals coach Ken Whisenhunt still sees a role for them on his club. Whisenhunt came to Arizona from the Pittsburgh Steelers, where he was the offensive coordinator during Ben Roethlisberger's rookie season in 2004. Roethlisberger was pressed into duty in Week 2 following an injury to then-starter Tommy Maddox. The offensive game plan, created weekly by Whisenhunt, entailed a strong running game to set up the passing game. And that required a fullback.

The Cards are currently looking for a starting quarterback and the plan for the 2011 season could be similar to what Whisenhunt orchestrated in 2004: run first, pass second. It's conservative, yes, but that's the idea when the quarterback is unproven (or in Arizona's case: unknown).

Knowing that, there's a good chance Sherman sees the field often next season. Not just on special teams (where young players make their money), but also on offense.