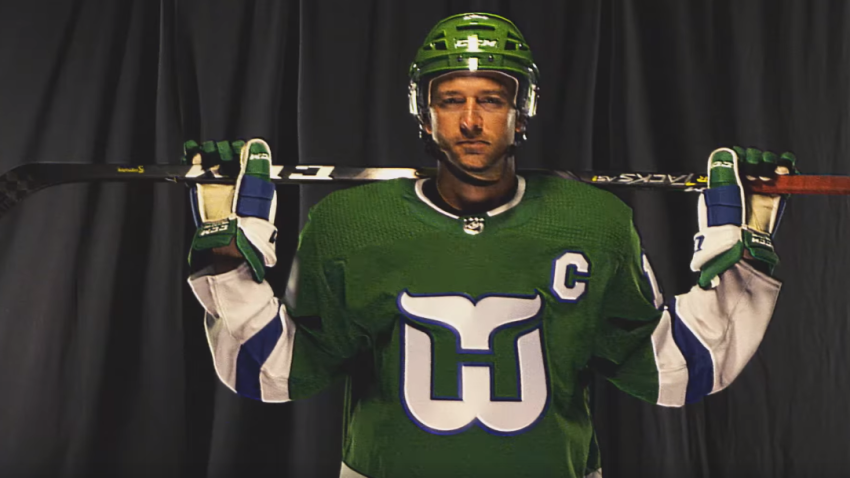 The Carolina Hurricanes announced Thursday on social media that the team will wear Hartford Whalers throwback uniforms twice this season.
The team debuted the look of the uniforms with a video on social media that started with the famous "Brass Bonanza."
The Whalers played in Hartford until 1992 before moving to Raleigh and becoming the Hurricanes. The Whalers uniforms the Hurricanes showed off on social media represent replicas of the road outfits the team wore during much of its time in Hartford.
The video ended with the words: "It's back. 12.23.18."
The Hurricanes announced the team plans to wear the uniforms in North Carolina on Dec. 23 against the Boston Bruins and then again on March 5 in Boston.
"We're proud of the history and traditions that we've built in 21 years in North Carolina. But we've never thrown away the records established during this franchise's 18 NHL seasons in Connecticut," said Hurricanes President and General Manager Don Waddell. "This is a chance to celebrate our team's heritage and the players and coaches who laid the groundwork for this franchise."
Many fans of the Whalers showed their displeasure on social media.
Some social media users said it was like dancing on Hartford's grave while another user said "You ripped the Whalers away from Hartford. You shouldn't get to now profit off their sweet unis."
But not everyone expressed anger about the uniforms. Some fans took it as a positive sign.
Hartford mayor Luke Bronin tweeted it was a look at the Hurricanes' future, a reference to the capital city hoping to lure the team back.
"One step closer to moving the team back to Hartford!!!!," another fan said.
The uniforms are made by Adidas.