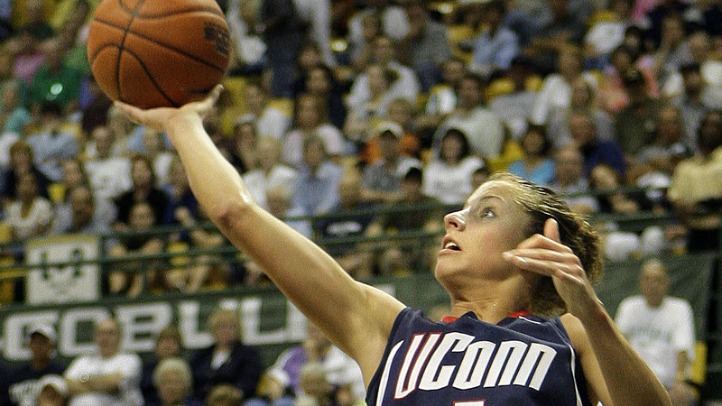 Caroline Doty can't catch a break. She missed 2010-11 season with a knee injury, one that didn't completely heal until late June. When she was finally cleared for practice, she tweaked the knee again, and spent a month recovering from that. Now Doty will miss the four exhibition games on the Huskies' European schedule next week.

"I was ready for anything. If I was cleared to play, I was ready to play," Doty said Friday, according to the Norwich Bulletin's Joe Perez. "If they wanted me to chill out, I would do that and do what they ask me to do. You just try and make the best of it, whatever it is. When my name is called, I'll be ready to play. If not, it's for my best interests and go on from there."

Doty, a redshirt junior sharpshooter, is familiar with setbacks. This is the third time she's injured her ACL in her left knee since high school. As Perez writes, "this most recent trouble has tested Doty's resolve but certainly haven't deterred her from making a comeback."

Doty explained: "I have all these feelings. I'm impatient, frustrated, sad, whatever. You get it checked out, you find out what is wrong with it, and you do what you have to do and move on."

If there's a silver lining it's this: Doty didn't damage her knee with her latest complication. "I was feeling like I felt when I was in high school before it happened (in late June)," she said. "I felt really good. For something to happen to the knee but nothing to happen (to the ligament) means that it is really strong."

Doty's backcourt mate for the upcoming season, sophomore Bria Hartley, had a much better summer. She was a member of the U-19 US National Team that won the world championship last month. And that experience will carry over to her duties as the Huskies' team leader for the upcoming season.

"One thing I brought back is that I feel like more of a leader," Hartley said, according to Perez. I think I've become more assertive. I liked having that responsibility with the U19 team and I'm ready for it if I'm going to have it here."

Sophomore center Stefanie Dolson joined Hartley on the national team and Auriemma spoke frankly about how important they'll be to UConn this season.

"Those two understand the importance of we have to play well, which got them ready for this, because this year, they're going to have to play well or we're going to struggle mightily," he said Friday.

On the surface it sounds silly to think that the Huskies would ever "struggle mightily," and maybe that's a bit of Auriemma hyperbole. That said, both players are important; Hartley will run the offense and Dolson will anchor the defense. Assuming they play up to expectations everything else should fall into place.