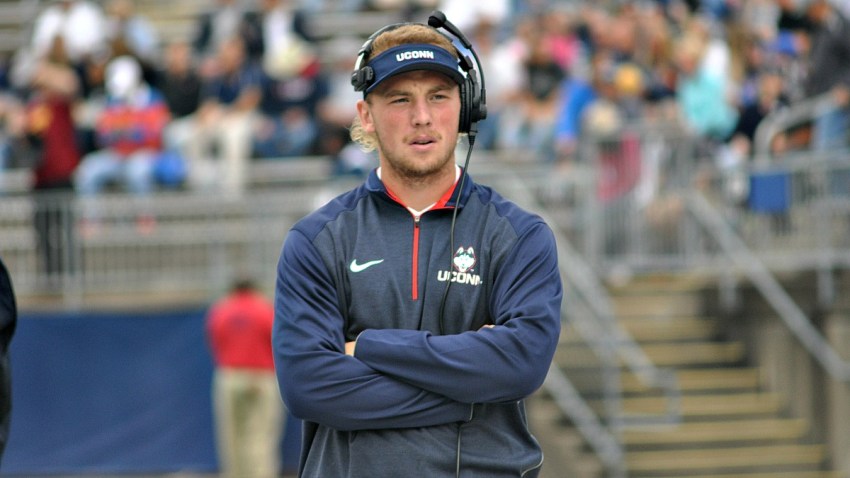 A year ago at this time, Casey Cochran was in the mix for UConn's starting quarterback job. He'd win it a few months later, but after suffering a concussion in the first game of the season, Cochran promptly retired from football.

The former Connecticut Gatorade State Player of the Year remained with the team, and could often been seen on the sidelines during games helping Chandler Whitmer or Tim Boyle. And while coaching is an option down the road, it's not something Cochran is looking to do right now.

"I can't really be around it as a coach right now because it's too fresh," Cochran said, via the Hartford Courant. "Everything just feels a little too much ... it makes you miss it too much to be a coach. That's how it was last fall."

But Cochran is still around the game ... as a member of the media. He's currently an intern at NBC Connecticut (sound familiar?) and it only makes sense that he would cover the Huskies.

"I've been around football my whole life, basically since I was born," Cochran said. "It's nice to be around sports a different way ... see this side of it. I covered all the AAC [basketball] games for the men and it was a great time. I love what sports do to people. Like [Ryan] Boatright hits a buzzer-beater and 10,000 people are going out of their minds, you know? Seeing that, being around, and to be able to talk about that part of sports ... my favorite part of the business is being able to talk about what sports can do to people."

Cochran says he'd love to work for ESPN some day.

"I don't know where his career will take him, but as far as interns go, you couldn't have a better one because he's got all the personal qualities you want. He's a leader," NBC Connecticut sports director Kevin Nathan told the Courant. "I've been saying to my colleagues that he carries himself like a 35-year-old man. ... He listens and wants to learn."

Cochran isn't exactly sure about what he wants to do in media but for now he's enjoying the learning process.

"I love it all," he said. "At the end of the day, I'd like to be at ESPN. A few years down the road, I'd like to see myself there. I love editing video, interacting with players and being close to the field. I enjoy a lot of different parts of the business, not just one.

"It's like I can transfer some things I've learned as a player. I've always been interviewed. Now I'm interviewing people, which is different, but at the same time it's not. I understand maybe a little better because I know the other side of it. I understand how young athletes are interviewed, like how they feel, what they want to hear, what they don't want to hear."