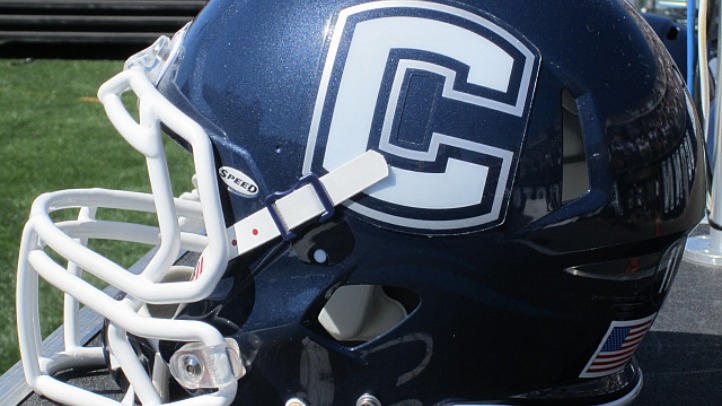 It doesn't matter how well you recruit, there is no defense against injuries. And in football, a game that's as much about execution as dealing with expectations, injuries can have an affect on both. Perhaps the Huskies' biggest recruit in the 2012 class, Connecticut two-time Gatorade State Player of the Year Casey Cochran, broke his wrist in a bicycle accident earlier this week, the Hartford Courant reports. That's the bad news.
The good news: it's to his non-throwing hand (left hand), surgery is scheduled for Friday, and he's expected to miss three weeks, according to TheDay.com's Mike DiMauro, though he notes that "Cochran's period of recovery won't be known until the surgery is complete."

For a freshman competing for the starting job -- along with Johnny McEntee, Scott McCummings, Michael Nebrich and Chandler Whitmer -- losing valuable practice time during training camp could be the difference between playing and sitting, but for coach Paul Pasqualoni these are good problems to have, however.

McEntee started most of the games for the Huskies last season and the former walk-on struggled with consistency in a new offense with new coaches. Whitmer, the junior college transfer, separated himself in spring practice prompting the media to declare him the early favorite for the job in the fall.

Pasqualoni, known for his patience and poker face, isn't in any hurry to name a starter.

"Chandler Whitmer had the best production in the spring game, so I think there are members of the media, and I've been through this before, that like to choose the quarterback," Pasqualoni said back in May. "If the members of the media, based on the spring game, were choosing the starting quarterback, Chandler Whitmer would be the front-runner. But I've been in this long enough to know that it's not based on one performance. It's the body of work over an extended period of time. They all did some pretty good things in the spring. Having said that, we're going to come back into preseason camp and we're going to continue the competition but I would like very, very much to make a decision as soon as I can."

Reading between the lines, this doesn't bode well for Cochran's chances given that he'll be sidelined for the better part of a month. The former Masuk standout enrolled at UConn before the spring semester and competed in the spring game, completing 4 of 15 passes for 46 yards, including an interception.

"I was very excited," Cochran said after performance. "I haven't played since December in a real game situation. There's a lot of things I've got to improve on over the summer, but I made some good throws and some good decisions, so it was a good day."

UConn opens the season on August 30 when they'll host UMass.