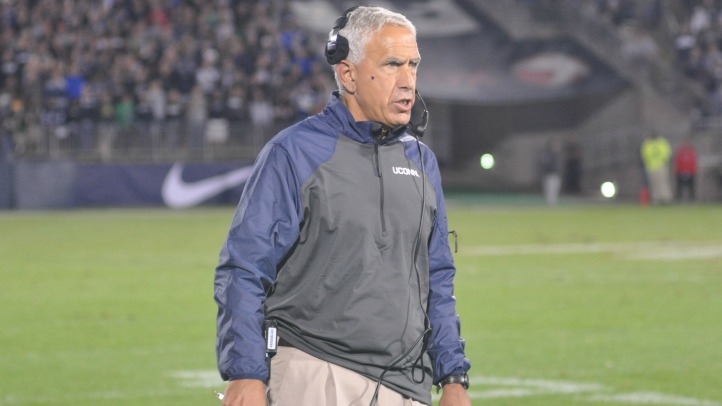 It's not a surprise that UConn coach Paul Pasqualoni would be on the ol' hot seat. He's 10-14 in two seasons and the Huskies are 0-2 to start 2013. But even before Saturday's loss to Maryland, there was already speculation on who should replace Pasqualoni.

Here's CBSSports.com's Tony Barnhart, in a story about how the college coaching landscape will change starting with two coaching dominoes: Lane Kiffin and Mack Brown losing their jobs.
Domino No. 6: UConn hires Louisville offensive coordinator Shawn Watson All you have to know about Watson you can discover in watching Teddy Bridgewater play. He knows how to coach the position. He has been a head coach at Southern Illinois (1994-96), an offensive coordinator Colorado, Nebraska, and Louisville. The 54-year-old Watson is ready to be a head coach again.
This comes five weeks after UConn athletic director Warde Manuel offered this pep talk to the football team as training camp began:

"Game by game I want us to play hard. I want us to have success on the field," Manuel said in early August. "We're going to go into every game with a game plan to win knowing that we're going to give our all and success for them looks the same for me, that at the end of the game, we're ahead and the other team has scored less points than we've scored. The expectations are going to be high for what this team could do. We're looking at a new offensive coordinator coming, new defensive coordinator who has been here before so a lot of changes, lot of things in the air but it should be exciting; great schedule, great opportunity for these kids to go against some of the best in the country and to be at home doing it. You want it for them and you want it for our fans."

Through two weeks it hasn't happened. And if the Huskies are embarrassed at home next Saturday by Manuel's alma mater , the speculation of Pasqualoni's job security will only intensify.