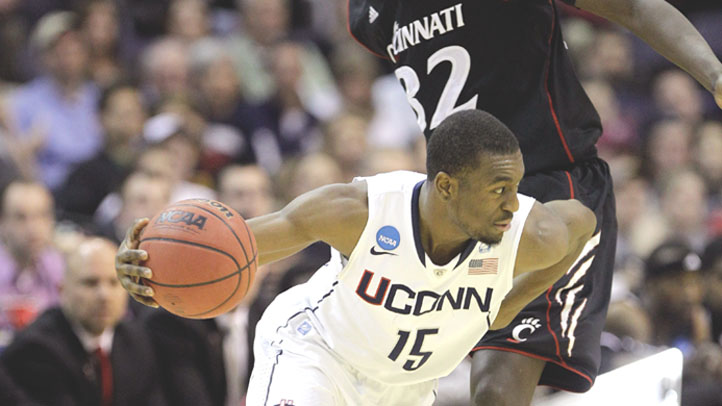 Whatever happens this weekend one thing is certain: Kemba Walker won't be back at UConn for his senior season. He hasn't come out and said he's going to the NBA, but given what he's accomplished this season, it's hard to envision a scenario where he would return, especially if the Huskies win it all.

But that's a conversation for another time. We're still a day away from Kentucky-UConn, and more than that, all the media attention directed at Walker after what he's done the last month.

The New York Times' Greg Bishop not only documents Walker's mastery these last nine games, he also spoke to a former UConn basketball great to get his thoughts on Walker.

First, the numbers:
Starting March 8, UConn played nine games in the Big East and NCAA tournaments. Walker logged 344 of 365 possible minutes in those games and averaged 26.3 points, 5.9 rebounds, 5.3 assists and 2.2 steals. He made a buzzer-beater against Pittsburgh, grabbed 12 rebounds against Syracuse, had 12 assists against Bucknell and scored 36 points against San Diego State.
And then this, from Caron Butler, who now plays with the Dallas Mavericks: "What [Kemba]'s doing is unprecedented. I've never seen anything like it."

And that's the thing: Walker's numbers are mind-blowing out of context. When you realize that he's doing it with virtually none of the weapons previous UConn championship teams enjoyed, it's even more astonishing.

Bishop writes that in 2004 Ben Gordon, helping UConn to the Big East and national tournament championships, was one of the few former Huskies to put up similar numbers to Walker. But there's one huge exception.

"Gordon's 2004 team featured seven future NBA players, including Emeka Okafor, who was named the tournament's most outstanding player," Bishop notes. "Because the current Huskies have seven freshmen, five of whom play regularly, Butler, Okafor and Gordon said Walker's run is beyond anything they accomplished."

Syracuse coach Jim Boeheim said that "Kemba has the youngest group of guys you could possibly have," and what he has accomplished "is more impressive than anyone in a long time."

And coach Jim Calhoun, as he's done all year, will tell you that Walker is the best player in the country for this very reason. It's a hard point to argue.