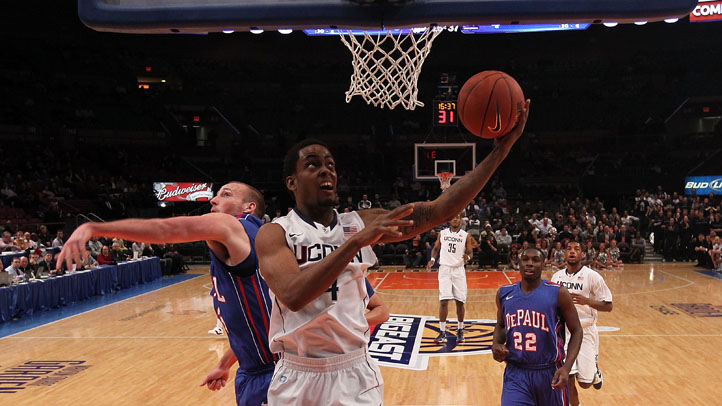 Jamal Coombs-McDaniel, a critical player off the bench during the Huskies national championship run last season, will play for Hofstra in 2012, CBSSports.com is reporting.

Coombs-McDaniel, who was known to butt heads with coach Jim Calhoun, announced that he was leaving UConn in May, citing that he wanted to be a starter. It also didn't help that he had recently been arrested on marijuana possession charges, although that apparently didn't factor into his decision to leave Storrs.

We mentioned on Monday that Coombs-McDaniel's had visited Hofstra and he called it "a great trip." And now he will be reunited with former UConn assistant Pat Sellers, who was recently hired by Hofstra coach Mo Cassara.
According to CBSSports.com, Coombs-McDaniel will finish out his classes at UConn, sit out the 2011 season, and will have two years of eligibility remaining starting in 2012.

The Associated Press also reports that "Coombs-McDaniel was admitted Wednesday into a state drug education program that could leave him without a criminal record.

"Rockville Superior Court Judge Laura F. Baldini accepted Coombs-McDaniel's application for the program for first-time offenders and ordered him to take 10 drug education classes and perform 75 hours of community service. Misdemeanor drug charges will be dismissed if he complies with the requirements in the next year."

Outside court Coombs-McDaniel told the AP "The team knows I'm sorry, and the coaching staff knows and that's what really matters to me," he said. "If they've accepted it, so should everybody else. I had a good ride at UConn, and I know they are going to have a great season next year."

And he's probably right. In the last 10 days, the Huskies landed two of the country's best players: DeAndre Daniels, who will contribute in 2011, and Omar Calhoun, a 2012 commitment.

That said, Coombs-McDaniel would have still been in the mix for a starting spot although, ironically, his scholarship ended up going to Daniels. Jim Calhoun would never admit this publicly (or who knows, maybe he would), but he might prefer Daniels to Coombs-McDaniel.