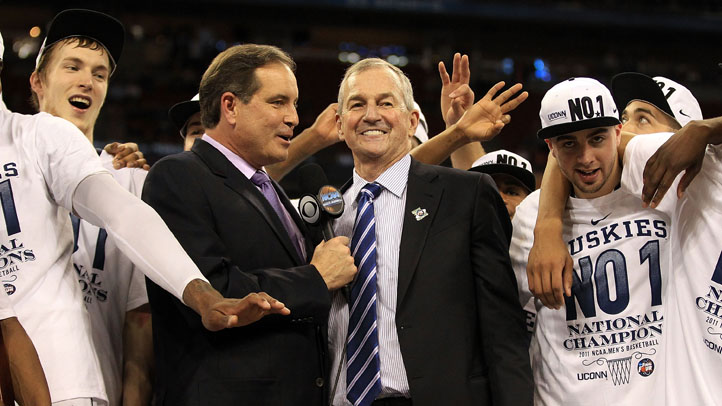 When writing about DeAndre Daniels committing to the Huskies for the 2011-12 season, we suggested that perhaps that would be enough to keep Jim Calhoun around for at least another season. The 69-year-old coach has been noncommittal for most of the spring about his future plans, although he suggested recently that his chances of returning are "55/45."

Adam Zagoria of ZagsBlog.com takes it a step further. "It's hard to imagine Jim Calhoun landing the No. 3 small forward in the Class of 2011 and then walking away from the game."

Fair point, even when talking about a coach who said he wants to leave the program in good shape before he hangs it up for good. Adding Daniels does just that for the Huskies, even if it's a young group. That said, the NCAA looming sanctions are decidedly not good, and maybe Calhoun wants a tad more stability before retiring to the golf course full time.

More from Zagoria: "I think he is gearing up for another year," a source close to the UConn staff said of Calhoun the same day the Huskies landed a verbal commitment from the 6-foot-8 Daniels.

Zagoria also writes that "IMG Academies coach Andy Borman said Calhoun was a major factor why Daniels chose the Huskies over Kansas, Texas, Florida, Duke and others, and he believes that UConn can make a run at back-to-back titles with the addition of Daniels to a core that includes rising sophomores Shabazz Napier, Jeremy Lamb, Roscoe Smith and rising junior Alex Oriakhi."

Those sentiments, coupled with Calhoun's comments from last month -- "I'm trying to do everything humanly possible right now to prepare ourselves like I'm the coach next year" -- are as close to a confession as Calhoun is going to give until he makes an official announcement one way or the other.

Calhoun won't coach forever, but landing Daniels is great news in the short-term for two reasons. First, it means watching top recruiter, Andre LaFleur, bolt for to Providence isn't as big a loss as originally thought. Second, Calhoun still has cachet; despite the less-than-laudatory recent media attention, he still landed a top-flight recruit for 2011-12. And that should bode well for the 2012-13 recruiting class, too.