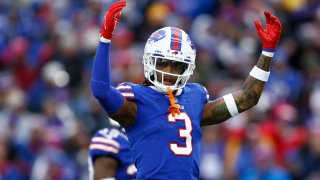 Damar Hamlin is issuing a challenge to Michelle Obama, LeBron James and Tom Brady.
The Buffalo Bills safety has partnered with the American Heart Association (AHA) to launch the "3 for Heart CPR Challenge", he announced in a video posted on social media Tuesday.
The challenge has three steps: watch a short video on Heart.org/3 to learn about hands-only CPR, donate to the AHA to fund CPR awareness and education, and challenge three friends to do the same thing on social media.
"As you know, CPR saved my life earlier this year on the field, and CPR could easily save your life or someone you love," Hamlin said.
To kick off the campaign, Hamlin called on "the GOATs" in Brady, Obama and James.
Hamlin suffered a cardiac arrest following an in-game collision against the Cincinnati Bengals on Jan. 2. The 24-year-old was administered life-saving CPR on the field by Bills assistant athletic trainer Denny Kellington.
Hamlin, who was initially listed in critical condition, spent almost a week at the University of Cincinnati Medical Center before moving over to the Buffalo General Medical Center/Gates Vascular Institute for a couple of days. He was discharged from the hospital on Jan. 11 and has continued his recovery at home and with the Bills since.
Hamlin was in attendance for the Bills' divisional round playoff loss to the Bengals. Last week, he spoke publicly for the first time since his collapse.
"What happened to me on Monday Night Football, I feel is a direct example of God using me as a vessel to share my passion and my love directly from my heart with the entire world," Hamlin said in a lengthy video. "And now I'm able to give it back to kids and communities all across the world who need it the most. That's always been my dream, that's always been what I've stood for and what I'll continue to stand for."