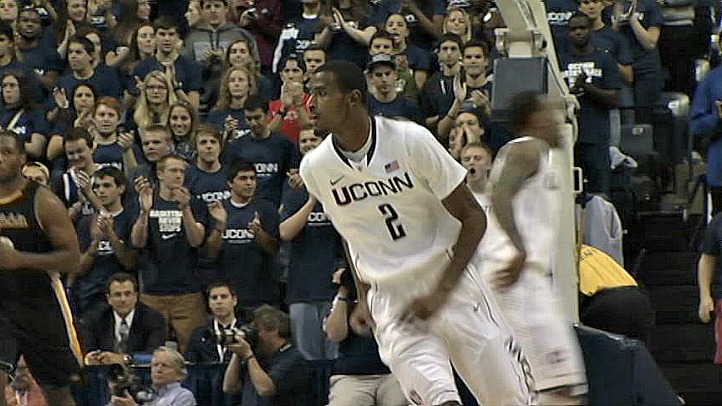 Last week, Shabazz Napier and Ryan Boatright were honing their craft at the Nike Point Guard Skills Academy. Meanwhile, frontcourt teammate DeAndre Daniels was doing the same at Kevin Durant's academy for wing players. The hope: UConn will build on last year's 20-win season and get a chance to show in the NCAA Tournament just how could they are.

For now, the focus is on getting better and there's really no better person to learn from than Durant.

"That guy's great," Daniels told the Hartford Courant's Dom Amore. "He's so tall and can do everything on the court; pass, shoot, dribble. I hope I get to spend some time with him. I just want to pick his mind. What is his daily routine like? How does he work out? How does he play certain situations."

Daniels' situation is unique in that Kevin Ollie was actually teammates with Durant in Oklahoma before he decided to get into coaching.

"Kevin Ollie changed the culture with the Thunder," Durant said, "Just like he's doing now with UConn. He was a big part of what we do, and he still is, because of what he instilled in us. He's always going to be a brother of mine."

Daniels faced off against 19 of the nation's best college forwards -- including Duke-bound Jabari Parker, Kentucky-bound Alex Poythress, as well as Jordan McRae of Tennessee and Glenn Robinson III of Michigan -- and more than held his own.

"You get a lot out of it," Daniels told Amore. "You're learning to defend the guys you're going to be playing against, same kind of athletes, with the same kind of skills as you. And you have to find a way to separate yourself from everybody else."

For the Huskies to be successful this season, it'll come down to the team's veterans. That starts with Napier and Boatright in the backcourt and Daniels up front.

"I want to work on the little things," Daniels said. "I'm not focusing on scoring, I know I can do that. Passing, playing defense, talking to the guys on the floor."