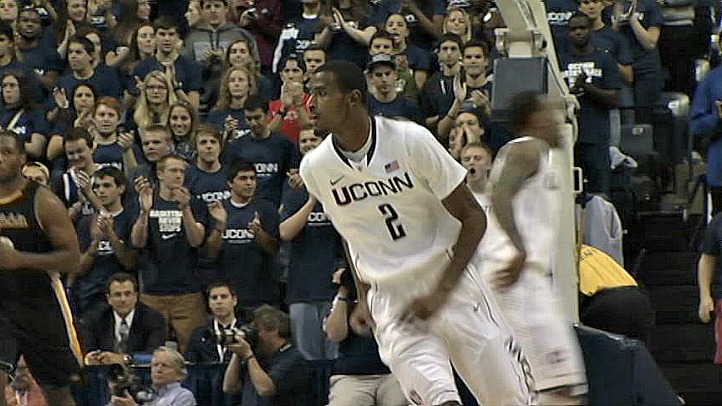 We mentioned earlier this week that the key to a successful UConn season might rely in no small part on the play of its young players. Particularly, sophomore DeAndre Daniels and freshman Omar Calhoun. The latter doesn't appear to have any issues with confidence while the former admitted that he struggled at times during his rookie season.

"Last year, when things would go bad, I wanted to go home," Daniels admitted after the team's exhibition win over UMass-Lowell. "I understand my role better. I'm boxing out better, and I'm going to get the ball better. I have to do that because I'm not as big and strong as some of the [frontcourt] guys we're going to face."

For the first time in his basketball-playing life, Daniels experienced both failure and criticism during his freshman season. It's all part of the Jim Calhoun coaching experience and no one is immune. But Daniels' on-court issues were exacerbated by the off-court reality that his sister had been diagnosed with a brain tumor.

"I could see it was affecting him," roommate Boatright said via the Hartford Courant's Dom Amore. "He had a short attention span. I tried to be there for him, to put a smile on his face whenever he needed it."

It was a Godsend.

"Having Ryan as a roommate helped a lot," Daniels said. "We would go back to the room after the games, after practices, and we'd talk. I'd tell him what I was feeling; he'd tell me what he thought. Mostly, he talked about how to handle Coach Calhoun."

Calhoun's not for everybody and former forward Alex Oriakhi would have similar conversations with former guard Jamal Coombs-McDaniels, who didn't always see eye-to-eye with the Hall of Fame coach. Coombs-McDaniels ended up transferring (incidentally, so did Oriakhi -- though for different reasons).

Calhoun retired in September and Daniels doesn't sound like he's going anywhere.

"I see a difference in him," point guard Shabazz Napier said. "He's not beaten down, like he seemed last year. Coach Ollie has a more positive approach with him."

Daniels had 15 points and 14 rebounds in the last exhibition game, production that will need to continue if the Huskies are going to be competitive this season. With a clear mind and a new coach, there's plenty of reason for optimism.