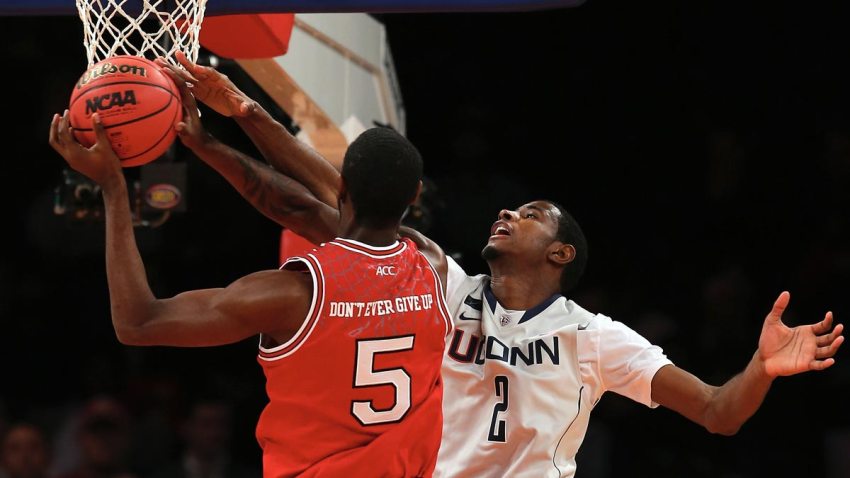 Most discussions about the 2013-14 UConn Huskies outpacing expectations begins with the play of two of the team's best players: guards Shabazz Napier and Ryan Boatright. But junior DeAndre Daniels will also be critical to any success these team has.

He's quietly emerged as a legit playmaker both under the basket and from the perimeter. In fact, there was even talk that Daniels might enter the 2013 NBA Draft last June but instead returned to Storrs and the Huskies are clearly better for it.

"DeAndre's an unbelievable player, I tell him that all the time," Boatright said, via the Hartford Courant. "'You could be the No. 1 pro prospect in this conference. You've just got to come and bring it every day,' and he believes in that."

Boatright is ... well, right. Daniels scored 21 points and grabbed nine rebounds in Wednesday's exhibition win over Southern Connecticut, and there's every reason to believe that he can put up those type of numbers once the regular season begins.

"DeAndre's not the most talkative guy," coach Kevin Ollie said. "He's not the life of the party when he's off the court. But when you get on the court, your alter ego takes over and you change into a different person. He's starting to realize that. He's changed. He's coming to the office, talking to his coaches. That's a beautiful thing, when you've got a young kid who came in and hardly said a sentence and now you can't shut him up. That's maturity. I think he's going to have an incredible year."

For Daniels, it's pretty simple.

"I just want to keep doing what I did at the end of the season, be aggressive, rebound," he said. "Do everything they need me to do. I'm just learning to be a leader, talk more on defense, help the young guys out when they get down, tell them they can do it, keep working hard."