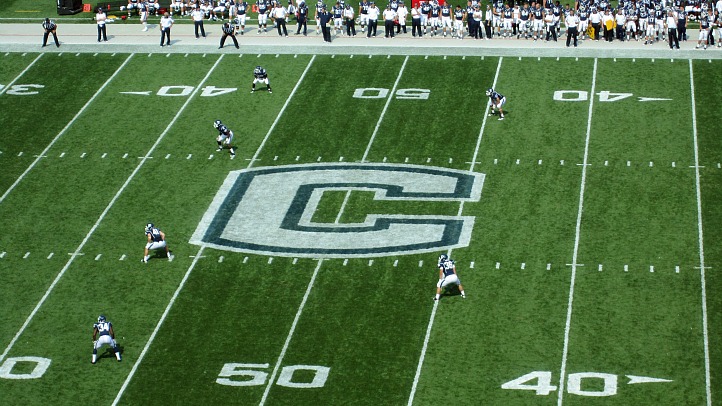 We've touched on what the Huskies must do offensively to have a chance against Iowa State Friday night, but as is the case from one week to the next, this team will go as far as their defense takes them. As the Norwich Bulletin's Joe Perez writes Friday, "The Huskies' defense is 10th among FBS schools in yardage allowed, fourth in first downs allowed, 17th in third-down conversion rate and 22nd in points allowed per game, among other noteworthy statistics."

The "but" to the previous sentence is that those numbers include UConn's Week 1 steamrolling of Division I-AA Fordham and their match-up with annual SEC cellar dweller Vanderbilt six days later. The Cyclones will be their stiffest test yet; quarterback Steele Jetz threw for 279 yards and four touchdowns against Iowa last week.

But defensive coordinator Don Brown's unit isn't afraid of a challenge. They were among the Big East's best defenses a year ago and not much has change. If anything, they're more aggressive under Brown, who joined the staff with Pasqualoni back in January.

"We can play with anybody in the country," senior safety Harris Agbor said, according to the Hartford Courant. "We just have to be focused, lock in on the game from start to finish and eliminate all big plays. [Defensive coordinator Don] Brown puts us in the best position and makes the best calls. Just be focused, read keys, know assignments and that's it. Everything is in front of you already."

There's always room for improvement, of course. Against Vandy, the D forced turnovers and even scored a late touchdown that put UConn up before the offense gave up a touchdown of their own. But the Commodores also hit on several big plays, and minimizing those could be the different Friday versus Iowa State.

"We need to play more consistently on defense," Pasqualoni said earlier this week, according to the Bulletin.

And that starts with linebacker Sio Moore, who had a huge game against Vandy that included a forced fumble that led to a defensive touchdown. Brown says "We still haven't unleashed him. … What you did see is a guy that is 240 pounds, can cover as well as any safety in college football. That's kind of freakish."

Moore added that "We're not really worried about [Iowa State]; they're a good team. All we can do at this point is prepare to the best of our abilities with our guys, make sure we can out-execute them and outsmart them. That's our way to go."

That plan has worked pretty well so far. Now it's just a matter of making sure UConn's offense shows up.

As for the match-up to watch for, the Hartford Courant's Desmond Conner writes that it's the UConn defensive line vs. the Iowa State offensive line.

"Senior DT Kendall Reyes was contained somewhat last week and the Huskies still had seven sacks, including a forced fumble returned for a touchdown," says Conner. "The line helped hold the Commodores to 2 of 16 on third down. Jantz can play if he's on his feet and has time."