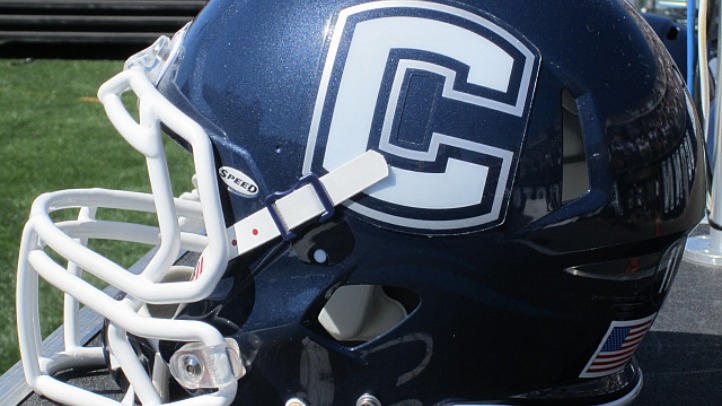 Well, this is something. The Huskies released their depth chart (.pdf) ahead of Saturday's matchup with Maryland and true freshman quarterback Timmy Boyle is listed to an "or" situation at backup quarterback behind starter Chandler Whitmer. The other "or" option? Casey Cochran, the former Connecticut State Gatorade Player of the Year.

"Timmy is taking the second team reps. Casey is getting reps with the second team," Pasqualoni said during the American Athletic Conference Coaches Teleconference on Monday (via SoxandDawgs.com). "Timmy is taking the first second team reps and Casey is getting the reps after that.

"That's a sign he's (Boyle) making progress and working hard, getting himself ready should we put him in the game. That's a reflection of that." said Pasqualoni.

This less than two weeks after Pasqualoni sounded as if he wanted to redshirt Boyle.

"The hope is to keep [Boyle] in development and if the situation comes where you have to go with the third guy, that's what you do," the coach said at the time. "But I just want to see his progress on a weekly basis. We've done this before. It's almost like every week you re-evaluate where you are and you move forward with it, so we'll see."

And those comments came days before Pasqualoni talked about all his young QBs.

"Casey Cochran right now is mentally a little bit ahead," the coach said. "Timmy Boyle is working in there, Kivon Taylor, Richard Lagow (who has since transferred) -- I don't know if I have ever been in the situation where I signed three quarterbacks and all three of them are really good players. They are all big, they are all 6-4, 6-5, they all have strong arms and all have a very good throwing motion. We don't have a windup guy in there. We have guys who can put the ball into tight places and can throw the ball around the field."

Whitmer struggled in the season-opening loss to Towson, and perhaps there's a chance Pasqualoni would make a change if the inconsistencies continue. The question then becomes, who gets the nod: Cochran or Boyle?