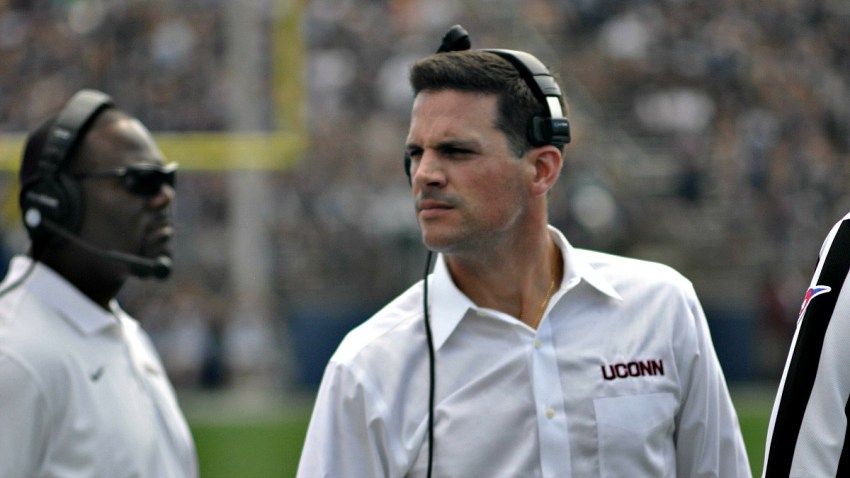 It's been a recurring theme since Paul Pasqualoni took over for Randy Edsall before the 2011 season: The lack of offensive firepower put immense pressure on the defense to keep games close, a unplanned strategy that has gotten progressively worse with each passing season.

But first-year coach Bob Diaco is going about the arduous task of changing ... well, everything -- from the players' mindsets, to their on-field performance to, ultimately, the outcome. It won't be quick or easy, but Diaco has a plan and given all that's transpired in the last three seasons, it's a start.

But all the positive thinking can't change the reality that UConn's offensive line just isn't very good right now. They've given up more sacks than any other FBS team (15), rank last in the country in tackles for loss (32) and the team's leading rusher is quarterback Chandler Whitmer, who didn't even start the first game.

"Too many negative plays," Diaco conceded earlier this week, via SNY.com. " Too many plays we can not get started properly because people are in the backfield. We understand it's a work in progress, but it needs to be addressed at a higher level. Sacks and TFLs. It's hard to get going when you are behind the chains or players are being harassed before they get started."

The immediate problem: Reinforcements aren't on the way. As the old coaching bromide goes, it is what it is, and for Diaco, right now it isn't very good. Even the always-positive coach was realistic about this.

"There are only a couple of guys who played some, guys that we are really counting on like a Richard Levy, Andreas (Knappe), Dalton (Gifford), they never really played let alone (Tyler) Samra, (Trey) Rutherford, (Ryan) Crozier," he said.

"They need a lot of work. They are working, they are trying. We need to be more sensitive as a whole team to their needs than we have been. We have been working hard but I think it even needs another layer of care. That might be with the daily structure, that might be daily assistance. Maybe we really inspect the installation so we aren't a jack of all trades and master of none. We ave a chance to maybe master a few jobs, maybe we decrease some of the run menu and give them a few things that they can really sink their teeth into. It is not a play selection issue, it is play execution issue. Every play looks bad when every play looks like they are storming the castle."

The next test comes Friday night when the Huskies face USF.