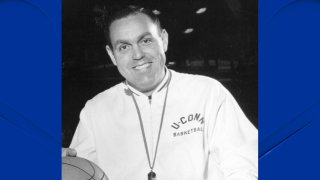 Former University of Connecticut men's basketball coach Fred Shabel has died at the age of 90.
An UConn spokesperson said Shabel guided the men's basketball team to three NCAA Tournament appearances as head coach in the mid-1960s.
He took over the UConn program in 1963 and 1964 following the sudden death of longtime coach Hugh Greer.
In the 1964 NCAA Tournament, the Huskies advanced to the final eight. Teams led by Shabel won or shared the Yankee Conference championship in each of the next three seasons, and made two more tournament appearances in 1965 and 1967, respectively.
Shabel coached some of the most famous players in UConn basketball history, including Toby Kimball and Wes Bialosuknia, according to the university.
Shabel retired from coaching after four seasons and became the athletic director at the University of Pennsylvania, where he stayed until 1975. He then left athletics and became vice president for operations.
After his time at university, Shabel worked for a sports management and cable TV company for nearly 40 years. He retired two years ago.
Shabel was born in Brooklyn, New York, and moved to Union City, New Jersey, where he was an all-state basketball player.
UConn said Shabel compiled a 72-79 record and a .713 winning percentage that ranks in the top five among head coaches at the university.