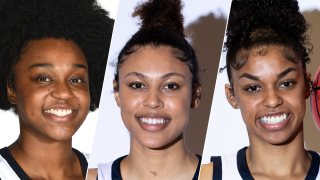 Straight from the NCAA Championship game to the WNBA draft: three UConn Huskies are putting their name in to play at the next level.
Christyn Williams, Olivia Nelson-Ododa and Evina Westbrook were all eligible to return for the Huskies 2022-23 season. This is because NCAA athletes impacted by the pandemic have an added year of eligibility.
Williams and Westbrook led the Huskies in scoring this season while Nelson-Ododa led the team in rebounding.
The UConn women ended an unforgettable season by falling 64-49 to South Carolina in the NCAA championship game on Sunday.
The WNBA draft is set to take place Monday night.